Creative Commons Lic
●
A

b

o

u

t
●
Table of Contents
●
B
l
a
c
k H

i

s

t

o

r

y
●
Underlined Italic
Live Links
●
Videos
**
&
Tunes
*
♫
♫
Dedicated to:
Mom Aunt Dodie Aunt Peggy Cousin Terresa
Aunt Jeannie Connie Starry
Billy
Marc G
Of and By We The Poor! Independent Indy News! Green Artisan Communities and Music Culture! Support Indy Culture!
IRJ Vol. 1, 2, 3 - First Edition Nov 4, 2017
Last Outdoor Publishing
Indy River Outdoors
There Are
140,000,000 Poor Americans!


(NOT 40 MILLION)



~



The INDY


Newspage

!






(6)

Poor People B

e

J

a

h

m

i

n

'



Desert Outdoors Published!
R
o
c
k

-

n

-

R

o

l

l

Will Never Die!
*
♫
♫

(291 mins)
C
l
i
mate

Crisis
Reign of Extremists

Ends NOW!
Babylon Break
*
♫
♫
(154 mins)
Bruce Cockburn, Neil Young
,
Tommy

James and the Shondells
&
Buds
An HONOR
to Publish!
I
n
d
y
R
i

v
e
r'

s
A Poor People's Journal
Sunday,
December 16, 2018
International Fridays Worldwide!
Carbon Protests Begin!
We
Be
Jahmin'!
Zero carbon, Zero nukes, Zero gmos.


Green Peace and
People
Economy!


No more Climate
Killing
Greed!
One Love
One Earth
~
Must Know News: For and by the Poor
~
~
Must Have Conscious Music
~
~
Respect. Love. Honor. Music. Peace. Family.
~
Be Solar Dot Info Index
Poor People's Journal
Freely Sponsored by:
Forward Together. Not one step back!
Honor
*
♫
♫
(356 mins)

Wavy Gravy, Bob Weir, Ace of Cups,
Buffy Sainte-Marie,
Freddy Greene
**

Willie Nelson, Jimmie Dale Gilmore,
Rev. William Barber, Yara Allen
Poor People's
Founding Members
& lotsa Lovin' Folks Be Jahmin'!
~
~
Multi-faith Clergy at work and ROCKIN'!
~
"With the Power of Sou
l,
~
~
Anything is Possible."
~
Jimi Hendrix
*
♫
♫
(440 mins)
Poor People
R

OCK!
Jah Planet Earth
*
♫
♫

(227 mins
)
Tony Moses, Spliff Skankin'

and Jahmin' Buds
Resist
Year 1 + Day 330
"Who's gonna stand up?"
One Bright Day
*
♫
♫

(174 mins
)

Burning Spear, Peter Tosh
and Jahmin' Buds
N.O.A.A. Weather
W. Hemisphere
5:45 am
PT
N.O.A.A. Weather Composite
I
n
d

y
R
i
v
e
r
Sonoran Desert Outdoor Home
The World is a Ghetto
*
♫
♫
(65 mins)
Bruce Cockburn, Cheech and Chong

War,
Bob and Ziggy Marley & Buds

Radio Free Alcatraz
Oct. 8, 2018

Alcatraz Island, CA

Indigenous People's Day
*
♫
♫
(118 mins)
S

t

a

n

d

i

n

g

R

o

c

k

,

N

D
Weather update
-
Here
Tucson, AZ
-
Here
N.E. Pacific

D.C. Weather Forecast
N. Atlantic
World Land and Ocean Temps Composite
~
Corporatists Must Be Stopped!

The House Majority Leader!
The Senate Minority Leader!
MUST WAKE UP!
Corporations
MUST Leave
Our House!
End of the War Economy!
$15 minimum wage and Unions!
Guaranteed Living Income for All!
National Improved Medicare for All!
End of Systemic Racism and Poverty and I.C.E.!
Student Debt Jubilee and Free State University Tuition!
Zero Nuclear and Zero Carbon Energy Consumption NOW!
Restoring and expanding the Voting Rights Act. Ending racist
gerrymandering, implementing automatic voter registration at the age of 18.
Making Election Day a holiday and extending the right to vote to all current
and formerly incarcerated people!
What About Us?
Babylon
FRIDAYS
December 14, 2018
√
December 21, 2018
December 28, 2018
And
All of 2019!
WE THE POOR
AND OUR CHILDREN
PROTEST!
for
A
Green
NEW DEAL!
Dateline:
Babylon
~
December 16, 2018
Amazing Grace Always
Has an Answer
**~ Vimeo -
Audio
*

(40 mins)
Was Live at Greenleaf Christian Church

|

A Sermon by Rev. Dr. William J. Barber, II
~
Beto O'Rourke Calls for "Public Pressure"
on Trump to Close Child Migrant Camp
~ Mother Jones
December 15, 2018
I Witnessed the Horror of Border
Militarization, and Vow to Fight It
~Truthout
Work Requirements for Medicaid Don't Work
~ The Medium
Rev. Dr. William J. Barber, II - Dec 11, 2018
~
Extinction Rebellion: UK Protesters
Are Supergluing Themselves to
Buildings
to Fight Climate Crisis
~ Democracy Now!
December 13, 2018
Violence Escalates After Israeli
Forces
Murder 3 Palestinians
in the
Occupied West Bank
~ TeleSUR
US Siding With Anti-Democratic
Forces in Venezuela
~ TeleSUR
December 12, 2018
Life expectancy drops for Britain's poor for
first time since Second World War
~ The Mirror UK
~
Climate leaders don't just talk.
They act.
Join us!!
**
Global climate strike 14 December.
Spread the word!!
#FridaysForFuture
#ClimateStrike
#ClimateChalleng
#ClimateLeader
#cop24
#schoolstrike4climate
December 11, 2018
Moral witnesses taken by border patrol!
And We are not afraid!
We will fight for liberation cause We know
why We were made!
Today, the Poor People's Campaign: A National Call for Moral Revival, the Kairos Center and Repairers of the Breach answer the call from the California Poor People's Campaign and the American Friends Service Committee to join faith leaders at the U.S.-Mexico border. Together, we demand a clear and just immigration system that prioritizes family reunification and the demilitarization of our communities on the border and the interior.

Watch the livestream of the interfaith service here

**

(fb)





The startling heartlessness with which our immigration system treats migrants is a rejection of human dignity. As we watch these families walking everyday closer, we see the same faces as those in our domestic refugee crisis from homeless encampments in Chico to the wildfires throughout Northern California. The haze of tear gas choking migrant children goes hand in hand with the armored cars deployed in Ferguson, Missouri.





We have a moral obligation to uphold our nation's promise to welcome the tired, the poor, the huddled masses yearning to breathe free. We cannot succumb to hateful rhetoric and conspiracy theories. Now, more than ever, we must stand for all those with whom we share a common suffering and hope.



We're here today at the San Diego border to demand the demilitarization of our border communities and an immigration system that recognizes the shared humanity of migrants seeking safety and refuge.

But we can't do this without you: Share our petition now to support the movement, wherever you are, and demand Congress take action.
Somebody has been hurting our people and it's gone on far too long. And we won't be silent anymore.
Forward together, not one step back,
The Poor People's Campaign: A National Call for Moral Revival
~
A Fusion Films Tribute To Rosanell Eaton
**

(Vimeo)
Rev. Dr. William J. Barber, II's statement on the passing of Rosa Nell Eaton
Ms. Rosa Nell Eaton was the 97-year-old Matriarch in our four-year successful court fight against voter suppression, from 2013 to 2016. While alive she stayed focused on the prize of justice for all.
She once told me, "They think I'm gonna die before this case is over, but I'm not gonna die. I'm fed up and fired up!"
In her 90s Mother Eaton was arrested and taken to jail. She marched in the streets and testified in the courts, and she even told Gen Eric Holder to tell his lawyers not to play with our case but to fight back.
I think it's ironic that near the same week Mother goes home fro her eternal reward, Thom Farr, who led the case that threatened to take her voting rights, is denied entry onto the Federal Court.
She reminded us always that the only reason for the NC NAACP to exist is to
FIGHT INJUSTICE, INEQUALITY AND ENTRENCHED RACISM.
~
Green New Deal
Protests in D.C.
ROCKED!
Sunrise is a movement to stop climate change and create millions of good [green] jobs in the process.


It's working. Our generation is turning the tide of history. Let me explain.



A month ago, no one was talking about the Green New Deal. Nancy Pelosi was preparing to resurrect a failed climate committee from a decade ago. We marched into her office and joined with Rep.-elect Ocasio-Cortez to demand a Select Committee for a Green New Deal. In only three weeks, 22 Congressional Democrats signed on.





Then, just this morning, 1,000 of us went back to offices of the Democratic leadership. 143 were arrested. The New York Times, NBC, CBS, the Washington Post, the AP, and dozens of other outlets covered our challenge to Democratic leaders.





And we saw our pressure working. One of the most powerful Democrats in the House, Rep. Jim McGovern, stepped out of his office to declare his commitment to forming the Select Committee for the Green New Deal. As news of our protest spread, four more Representatives - Barbara Lee, Peter Welch, and Eleanor Holmes Norton, and Steve Cohen - also committed to supporting the Select Committee.





These are huge wins. But nothing is certain until the rest of Democratic leadership - especially Nancy Pelosi - approves the Select Committee.





We're going to mobilize every resource and every volunteer we can to get this done before Congress breaks for winter recess this Thursday. We've got 3 more days to win this and guarantee the Green New Deal makes it onto the 2019 Congressional agenda.



In the next three days, Democrats will finalize their 2019 agenda and leave D.C for the holidays. What they do between now and then will determine whether we get a Select Committee for a Green New Deal with mandate to draft the most ambitious climate legislation ever.

Today's action - and the new allies we've won in the Democratic caucus - have brought us closer to victory than ever before. But too many people in the Democratic establishment are still too comfortable delaying action, accepting money from fossil fuel executives, and condemning our generation to catastrophe.

But we have a growing movement of young people from across the country, and that could make all the difference. We need to train new leaders, expand our phonebanking and digital tools, and ramp up our lobbying efforts as fast as possible.



It gives me so much to see our leaders and our country discuss a plan that actually matches the scale and urgency of the crisis. It's hard to believe how quickly our campaign for a Green New Deal got into the national spotlight. And if the headlines from today tell us anything, the Green New Deal is going to be a big priority for Democrats in the upcoming Presidential primary.





We're going to make sure this plan develops into the legislation we need. Thank you for everything you do in this movement.





Victoria Fernandez



~
Poor People's Campaign:
A National Call for Moral Revival March
on the
U.S. -
Mexico Border
ROCKED
!
~
December 10, 2018
Poor People Marched on the
U.S. - Mexico Border!
Forward Together!
Not One Step Back!
More than 100 faith leaders from all over the country co-chair
of The Poor People's Campaign: A National Call for Moral
Revival, , will take part in a nonviolent direct action
at the US-Mexico border. Join us in a solidarity event near you!
~
December 9, 2018
Was live

with

Rev. Dr. Liz Theoharis and faith leaders
around the country for an interfaith service to gather in
community, worship and sing together in support of the
moral direct action on Dec. 10th and to launch
American
Friends Service Committee's week of action
for migrant justice
**
-
Audio
*

(122 mins) (fb)
Quiet Sunday
in Goldsboro, NC
If your church services are canceled
b/c
of snow this morning
~ (t)
~
December 8, 2018
Fossil Fuel Divestment Protest at Yale
**
(55 mins)
(fb)
54 students & community members occupy the Yale Investments Office until @Yale cancels its investment in Puerto Rican debt and divests from fossil fuels. #YaleIsComplicit in climate injustice. We demand real action. #CancelTheDebt #DivestYale https://bit.ly/2SCrbAN
~
Heavy rains in Tijuana have affected
thousands of
Central American migrants who left their countries
escaping violence and poverty
~ TeleSUR
~
Wall Street's Corruption Runs Deeper Than
You Can Fathom
-
Audio
*

(30 mins) ~ Truthdig with Bob Scheer
~
Police and 'Yellow Vest' Protesters Clash in France
~ TeleSUR -
PICS
Self-organized Yellow Vest Movement Threatens
Macron Regime in France
~ The Indypendent
Ignored by the president, distorted by the media,
snubbed by the left, courted
by the right, the
self-organized mass movement known as the
Yellow Vests
is seriously challenging the political
and economic order in France.
Ingredients to the current uprising underway in France:



An autocratic president without a party or a mandate.
A desperate lower-class population angry over growing economic inequality in a rich country and government indifference to their plight calling for Macron to resign.
A class of organized civil servants and unionized workers still licking their wounds and paying their bills after failing to block the president's counter-reforms last spring.
Traditional parties — left (socialists, etc.) and right (Gaullists etc.) — that have alternated in power since the end of World War II diminished and eclipsed.
The parties of the far left (Jean-Luc Mélenchon supporters, various Trotskyists, etc.) and the far Right (the former-National Front) are too preoccupied with internal fights to play any significant role.
Powerful mass media dominated by the interests of big business but viewed with suspicion by more and more of the population.
A brand-new "leaderless" mass movement connected by social media, "finding its way by walking," more or less consciously embedded in a long history of French rebellions and struggle, discovering its natural leaders ("good thinkers, good talkers" like old Guillaume Carle), putting forth its own ideas for the reorganization of society.


2018 Yellow Vest grievance list:




No one left homeless.


End the austerity policies.
Cancel the interest on illegitimate debt.
Don't tax the poor to pay it back, find the 85 billion Euros of fiscal fraud uncollected.


Create a true integration policy, with French language, history and civics courses for immigrants.




Minimum salary €1500 per month


Privilege city and village centers.
Stop building huge shopping centers.


More progressive income tax rates.




Big companies like McDonald's, Google, Amazon and Carrefour should pay big taxes and little artisans low taxes.





December 7, 2018
We all need healthcare, and less and less of us can afford it.
On 12/7 join
,
and other
members for a pivotal event on
healthcare at:
Who Profits When We Get Sick?
Learn more and RSVP:
December 5, 2018
Poor People March on Washington
- postponed
The Poor People's Campaign: A National Call for Moral Revival is postponing our December 5, 2018, press conference in Washington D.C.

Instead, we will deliver our demands around voting rights and our Moral Agenda to the incoming Congress early in 2019. We will bring the message Forward together,

Reverend William J. Barber II and Reverend Liz Theoharis
National Co-Chairs, Poor People's Campaign: A National Call for Moral Revival

~
~
♫
♫
Us and Them
♫
♫
Mother Earth Be Jahmin'!
~
December 5, 2018 -
Aired Nov 30, 2018
A discussion on the global climate crisis,
Green New Deal,
and a path to 100% Renewable energy
**
(70 mins) ~ periscope
December 4, 201
8
'This Is a Coup': Protests Engulf Wisconsin Capitol
as Outgoing Scott Walker and GOP Move to
Cripple Democratic Power
~ Commom Dreams
On site Video Stream
**
(fb)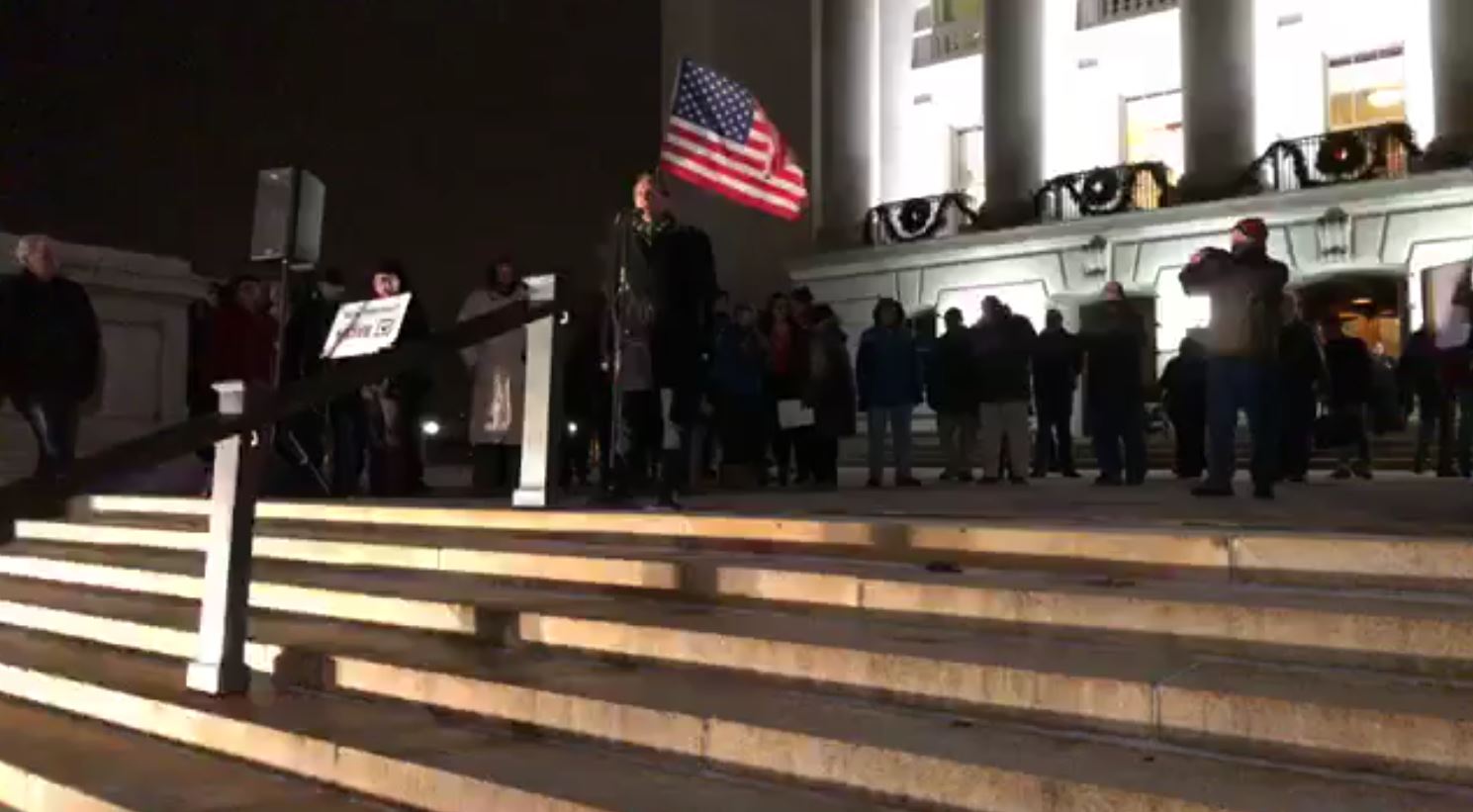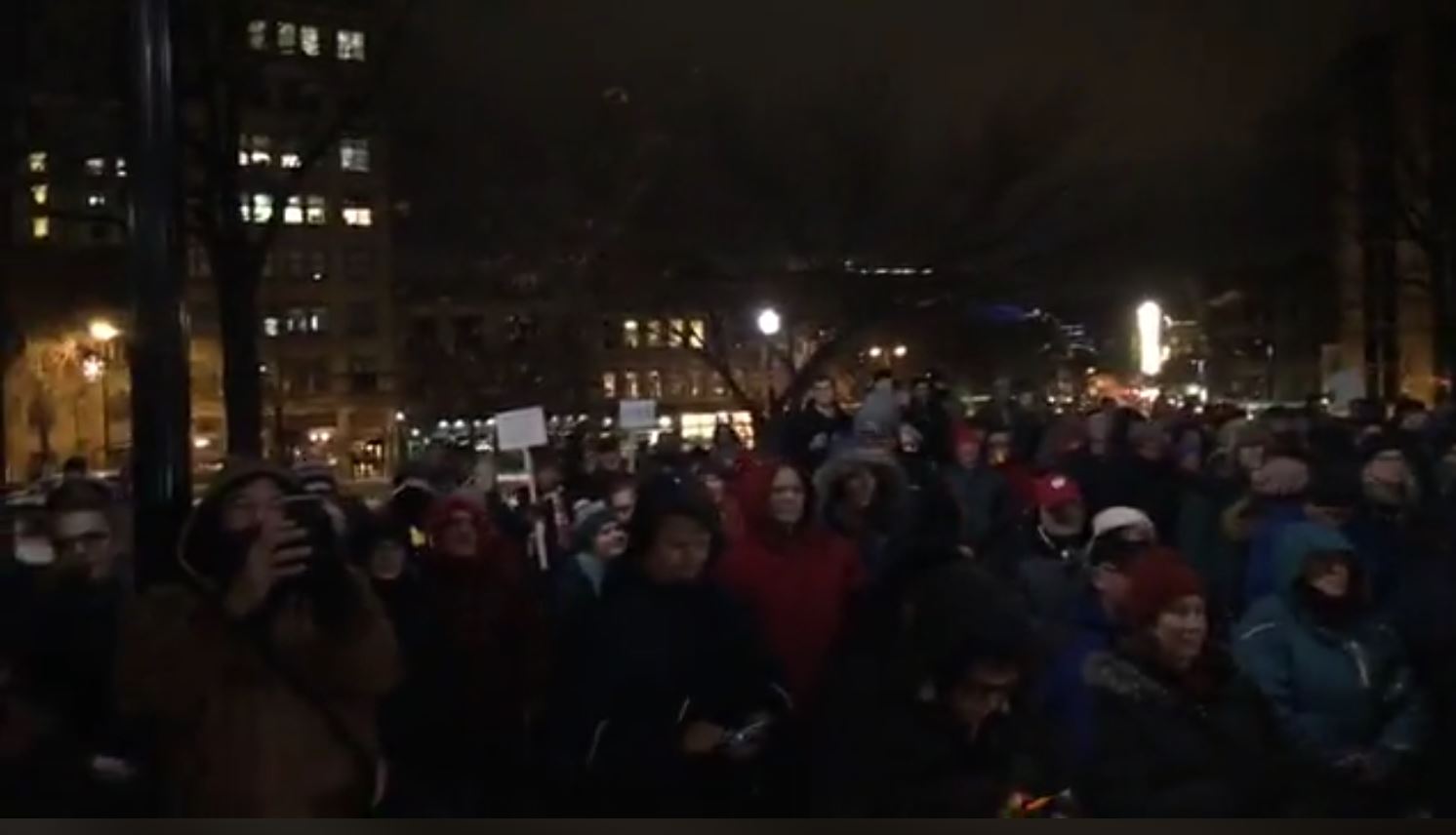 Was Live Dec 3, 2018 -
H
ere
**
(fb )
-
Audio
*
(103 mins)

The Intercept is partnering with Sen. Bernie Sanders,
Alexandria Ocasio-Cortez, and others for a live town hall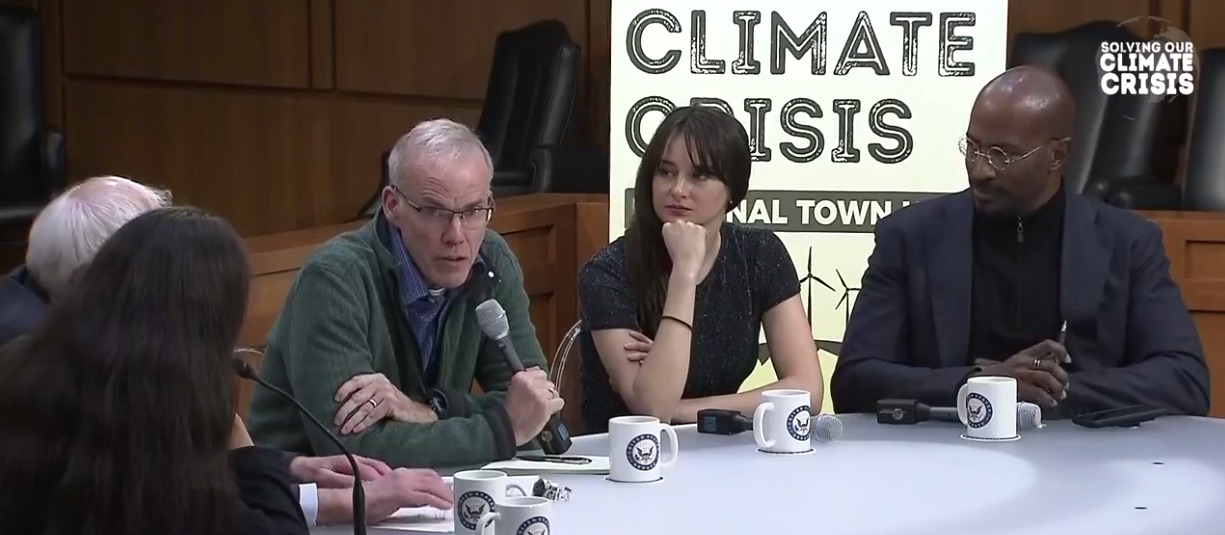 December 2, 2018
The Honorable Nina Turner
Was live streamed at
Greenleaf Christian Church
in Goldsboro, NC
NO SOUND for 30 or so mins then Nothing!
~
December 1, 2018
AMLO's Swearing-In: Will Mexico
Overcome Neoliberalism?
~ TeleSUR
November 30, 2018
Magnitude 7.0 quake north
of Anchorage
~ Daily News-Miner Fairbanks, AK
more pics
~ Anchorage Daily News
~
November 28, 2018
Mississippi Justice Delayed!
~
Was live -
Mass call with
Reverend Theoharis
**
Join Us as we discuss our return to Washington DC for the
third time this year, as we demand our politicians to protect
our voting rights and address the voter suppression across the country.
This means immediately restoring and expanding the Voting Rights Act,
ending racist gerrymandering, implementing automatic voter registration
at the age of 18, making Election Day a holiday and extending the right
to vote to all current and formerly incarcerated people.
The November 28 House Vote
Nancy Pelosi wins backing of House Democrats, but 32 vote
against her and opponents vow to fight on - Barbara Lee
loses bid for House leadership post
~ The Mercury News
November 27, 2018
All Roads Lead to Raleigh
Moral Day of Action
Mississippi
D. C. Senate Voting!
18-minutes of truth about
you must
hear before the historic Nov. 27 run-off election:
"These aren't red states anymore, these are
states."
November 26, 2018
Blizzards Sweep the Midwest
~ Weather channel
After losing supermajorities in NC House & Senate on Nov 6,
Republican lawmakers are rushing to hold a "lame duck"
session Tues, Nov 27, to pass voter ID law with a veto-proof
majority. This is undemocratic & we will rise up to
demand justice. Join us!
November 25, 2018
GOVERNMENTS' FAILURES ON CLIMATE
SPUR NEW ACTIONS
~ Popular Resistance
Dark Money
-
Audio
*

(82 mins)

aired October 1 and 4, 2018
on PBS' ~ P.O.V
Above: Helena, Montana's Capitol
Dark Money - A Conversation Between

Hendrik Hertzberg and Jane Mayer
**
~ (2-yrs ago) youtube
Berkeley Indigenous
Peoples' Day Pow Wow
KPFA Live Sunrise at Alcatraz Part 1
*
(118 mins)
Bay area Indigenous historical extra
-
Part 2
*
(38 mins)
Ten Ways to Honor Indigenous Peoples Day

Craft a Sunday service around Indigenous Peoples Day. As you plan your service, invite those within your congregation who are Native people to participate in the planning and the service itself. Work to find out the pre- and postcolonial history of the land you are worshiping on and the Native peoples who have lived there.
Build and strengthen connections to nearby Native communities. Make plans to attend an event hosted by a Native group, organization, or cultural center. Find out how your congregation can be of assistance regarding the issues nearby groups are working on or struggling with.
Study the Doctrine of Discovery

and work to eliminate its effects.

At the 2012 General Assembly, Unitarian Universalists passed a resolution repudiating the Doctrine of Discovery and calling for study of the doctrine and elimination of its presence from the current-day policies, programs, theologies, and structures of Unitarian Universalism. Study and discuss the Doctrine of Discovery in your congregation and take action on the 2012 resolution.

Take action to rename

Columbus Day

"Indigenous Peoples Day"

. South Dakota, Alabama, and Hawaii have renamed Columbus Day. Other states (New Mexico, for one) have come close. Use the web to discover if anyone has tried to change the holiday in your city or state, and form a congregational task force to start or join the movement. Check out Denver's Transform Columbus Day Alliance for more info and resources.
Provide age-appropriate education on Native lives and cultures as part of your congregation's religious education programming. Take active steps to counter the dominant message that Native peoples are history by offering examples of present-day American Indian life, art, etc. Check out the books Through Indian Eyes and A Broken Flute. Go further by creating a task force to find out what your children learn about Columbus in school. You can use Lies My Teacher Told Me and Rethinking Columbus to evaluate textbooks and offer suggestions.

Hold a movie screening with a discussion afterward.

There are a plethora of films that can generate rich discussion. Check out VisionMaker Video, a video catalog by Native American Public Telecommunications of films by and about Native folks (see, for example, the film Columbus Day Legacy).
Host a congregation-wide common read and book discussion. Possible titles include An Indigenous Peoples' History of the United States by Roxanne Dunbar-Ortiz, A Little Matter of Genocide by Ward Churchill, Off the Reservation by Paula Gunn Allen, Bury My Heart at Wounded Knee by Dee Brown, Reinventing the Enemy's Language edited by Joy Harjo and Gloria Bird, The Woman Who Watches Over the World by Linda Hogan, and Soul Work edited by Marjorie Bowens-Wheatley and Nancy Palmer Jones. Support Native booksellers such as the North American Native Authors Catalog. You can also find books on the particular tribes in your area—check out this listing of books by tribe from Native Languages of the Americas. For more reading suggestions, visit Bringing the Doctrine of Discovery Back Home.

Engage with

"Immigration as a Moral Issue

.

" Indigenous peoples of Central America are a big part of today's desperate wave of migration to the United States. Find out how the United States has continued Columbus's violent legacy of colonialism against Central American peoples. Check out the study guide from Multicultural Growth & Witness.

Begin

Building the World We Dream About,

a transformational Tapestry of Faith curriculum on race and ethnicity.

This program allows participants to take concrete steps to heal, individually and as a congregation, the ways in which racism separates us from one another and spiritually stifles each of us.

Take action for the rights and needs of Native peoples!
Farm Aid 33
Saturday, September 22, 2018

on the lands


of the Mohican, now called Connecticut

Audio
*
♫
♫
(200 mins)
Pics
Medea Benjamin:
@medeabenjamin
All Lives Matter When:
Black,
Red,

Yellow,
and
Brown
Lives Matter!
Muslim, Jew, Christian, Spiritual, Pagan!
Gay, Straight, Trans, Poor, Elders, Disabled!
Honoring our ancestors compels the
choosing of Love over hate!

NoDAPL Solidarity
"
Water is Life
"
Mni Wiconi
**
Standing Rock!
December 16, 2018
N.O.A.A. website
6:00 am PT
- West
Winds & Night Lights
WeatherView
6:00 am PT
Europe, Africa and Middle East
Winds
& Precipitation
WeatherView
6:00 am PT
-
East
Winds & Night Lights
WeatherView
6:00 am PT
-
Pacific Rim
Winds & Precipitation
WeatherView
Scale:
U.S. Wildfires Reports
& Updates
Here
December 15, 2018
Update map
-
Here
National Preparedness Level 1


as of October 4 at 12 pm MDT (on a scale from 1 to 5)

Current hours for the National Fire Information Center are
(MST) 8:00 am - 4:30pm, Monday - Friday
208-387-5050

This report will be updated Monday through Friday.

Please check the IMSR for more information
.
December 13, 2018

Nationally, one large fire was reported. The Walker Fire in Oklahoma has burned a total of 800 acres.

Weather: More valley rain and mountain snow is expected across the northwestern quarter of the country Friday as another weakening cold front moves east along the Canadian Border. To the south, across the Southwest, warm and dry conditions Friday will give way to a cooler and breezy southwesterly flow over the weekend. In the Southeast a strong, wet system will move northeast into the Mid-Atlantic region by Sunday spreading moderate to heavy rainfall. Windy conditions are expected across the northern Great Plains Saturday followed by a warm up that will allow for unseasonably warm conditions to develop as far north as the Dakotas. Cooler and windy conditions will return by Mid-week as an Alberta Clipper moves southeast from Canada toward the Great Lakes. While this is occurring, high pressure will redevelop over the west producing warm and dry conditions in the mountains and strong inversions in the lower elevations.
U.S. Drought Monitor
- Updates every week
-
Here
Update Here
~~ National Weather Forecast
-
Here
~~
World Jet Streams
-
Update
Here
"Winners Take All: The Elite Charade of
Changing the World" by
Anand Giridharadas
Billionaires Are the Lethal Monkey
on the
Back of the
American Public
-
Audio Interview
*
(30 mins) ~ Bob Scheer's Truthdig
"Winners Take All: The Elite Charade of Changing the World"–to my mind, this is an inside view of a new ruling class. I don't think I'm exaggerating. It's a world that–you have all the watering holes, the TED conferences, the Aspen, everywhere else; you've been there, you've been there as a journalist for The New York Times for about 12, 15 years. You studied at some elite institutions, you worked at the Aspen Institute. And what we meet in this book are people who are into a great exercise of delusion, that they can make out like bandits and still be Robin Hood. Is that not the deal?
~ Bob Scheer

Queen of Soul
Aretha Franklin
*
♫
♫
(389 mins)
Earthstrong
~
March 25, 1942
- August 16, 2018
~
1964 2017
Motown
*
♫
♫
(252 mins)
♫
♫
To Aretha's Funeral
>>
>>
>>
Glowing Elements in the
[Queen of]
Soul Nebula
Astronomy Picture of the Day
One Love
One Earth
Bob Marley
*
♫
♫
(236 mins)
Three Shows 1979-1980
-
pics here
The undersea cables that keep the Internet alive
Total Solar Eclipse

photo credit
Slooh
After the Gold Rush
*
♫
♫
(3 mins)
One Love
A Primitive Camping Health Retreat
One Earth
~We The People promise~
Learn from our Mistakes.
Create Peace and Happiness.
Interact with No Harm

.
Teach through Kind Action.
Experience Wilderness Quiet.
Share Our Bliss, Dance and Song.
Build Green. Protect and Care.
Recycle, Reuse and Create
Sustainable Systems.
Save Our Wild Earth,
Her Animals, Land,
Plants, Water and Air.
And further,
~We The People promise~
"We of the Green Artisan Communities,
join in spirit and in our street presence
with Bernie Sanders, non-corporate
Democratic members of Congress,
trade unions, senior groups, health
care activists and all those who
believe in a Green Earth economy
with social justice."
"To all corporate fascists, to the
corporate Republicans, to the
corporate Democrats and any
and all other
1% privatizers,
Loudly, Clearly and Honorably:
We The People, will honorably,
never let you throw nearly 30
million of us off of health
insurance (no matter how lousy),
make massive cuts to Medicaid
and defund Planned Parenthood.
We The People demand
N
I
M
A
!
(HR676)
It's all about Green Art & Music,
Mom Earth, People over profit
and getting along.
N
I
M
A
!
(HR676)
N
ational
I
mproved
M
edicare for
A
ll
"Is the Healing of the Nation!" - a Jahmin' Notion!"
The Poor People's Journal
Leading up to Election 2018

>>>
Here
<<<
Headline Archives:
1
1A
2
3
4
Archived Data Base Additions

Added November 1 ..... through October 31
Note: Archived web sites may have out-dated or broken links
2003-2005
2006
2007
2008
2009
2011
2012
2013
2014
2015
2016
2017
2018
2019
B

l

a

c

k

H

i

s

t

o

r

y

ROCKS!
I
r
i
e

!
Back to the Top
PP's Journals:
1
2
3
4