Creative Commons Lic
●
Firefox
or
Safari
or
IE
or
Tor
●
A

b

o

u

t
●
Latest Postings
●
B
l
a
c
k H

i

s

t

o

r

y
●
Live Links
are Underlined Italic
●
Videos
**
&
Tunes
*
♫
♫
Dedicated to:
Mom Aunt Dodie Aunt Peggy Cousin Terresa
Aunt Jeannie Connie Starry
Billy
Marc G
Of and by We The People! Independent "Indy" News! Green Artisan Communities and Music Culture! Please Support Indy Media!
IRJ Vol. 1, 2, 3 - First Edition Nov 4, 2017
Last Outdoor Publishing
Indy River Outdoors
Bob Zavoda ("Outdoor Bob")
One Love
I
r
i
e

!
One Earth
Honor
*
♫
♫
(356 mins)
Mother Earth
C
l
i
mate

Crisis Ends Now!
♫
♫
Babylon Break
*
(154 mins)
Bruce Cockburn, Neil Young
,
Tommy

James and the Shondells
&
Buds
~
Sunday, November 18, 2018
We Be
Indigenous Peoples
Jahmin'!
Zero carbon, Zero nukes, Zero gmos.


Green Peace and
People
Economy!


No more Climate
Killing
Greed!
Independent
Sourced News
Dateline:
Babylon
My Outdoor Privilege and
Honor to Publish
!
Weather at My Sonoran Desert Outdoor Home
The World is a Ghetto
*
♫
♫
(65 mins)
Bruce Cockburn, Cheech and Chong
War,
Bob and Ziggy Marley & Buds

~
~
One Bright Day
*
♫
♫

(174 mins
)
Resist
Year 1 +
Day 302
"Who's gonna stand up?"
Burning Spear, Peter Tosh
and Jahmin' Buds
~
Radio Free Alcatraz
Oct. 8, 2018

Alcatraz Island, CA

Indigenous People's Day
*
♫
♫
(118 mins)
~
S

t

a

n

d

i

n

g

R

o

c

k

,

N

D
Weather update
-
Here
~
N.O.A.A. Weather
Tucson, AZ
-
Here
~
Must Know News: For and by the Poor
~
~
Must Have Conscious Music
~
~
Respect. Love. Honor. Music. Peace. Family.
~
Be Solar Dot Info Index
I
n
d
y
R
i

v
e
r'

s
Poor People's Journal
Forward Together. Not one step back!
~
Honor
*
♫
♫
(356 mins)
~
The Poor People's Journal
Leading up to Election 2018

>>>
Here
<<<
Multi-faith Clergy at work and ROCKIN'!
~
"With the Power of Sou
l,
~
~
Anything is Possible."
~
Jimi Hendrix
*
♫
♫
(440 mins)
The Poor People's Journal
ROCKS!
Us and Them
November 18, 2018
Death Toll in Northern California Wildfire HIts 76
With Nearly 1,300 Missing
~ Weather Channel
November 17, 2018
Red Letter Christians
**
-
Audio
*
(156 mins)
Was live at St. Luke Community UMC, Dallas, TX
~
November 17, 2018
Officials have confirmed 71 deaths in the Camp Fire,
the deadliest fire in California history
~ Weather Channel
November 16
Red Letter Christians
**
-
Audio
*

(w/Rev. Barber audio) -

(187 mins)
Was live at St. Luke Community UMC, Dallas, TX
After much planning and prayer, the #DALLASREVIVAL is finally here! Folks are coming from 18 different states (and a few countries) to seek refreshment and renewal.
The Revs.

William Barber

(absent due to urgent needs requiring his presence in Greensboro -
audio
is
hard to hear
),

Jacqui Lewis, Shane Claiborne, Tony Campolo

,

and more than a dozen other preachers from the Red Letter Christians movement will join Dallas' own Rev. Dr. Frederick Haynes Jr. at St. Luke "Community" United Methodist Church for a two-day gathering of preaching, teaching, and witness.
Together, we will issue a prophetic challenge to toxic evangelicalism and Christian nationalism. While the staunchest voices of evangelicalism provide religious cover to a president whose character and policies stand in direct contradiction to the teachings of Jesus, we will respond with a Christ-honoring, gospel-proclaiming revival.
This is a gathering for people of faith or no faith who are curious about Jesus and troubled by the state of evangelicalism in America. Whether you love Christianity or hate it, whether you are over-churched or un-churched, you are welcome at the #DALLASREVIVAL.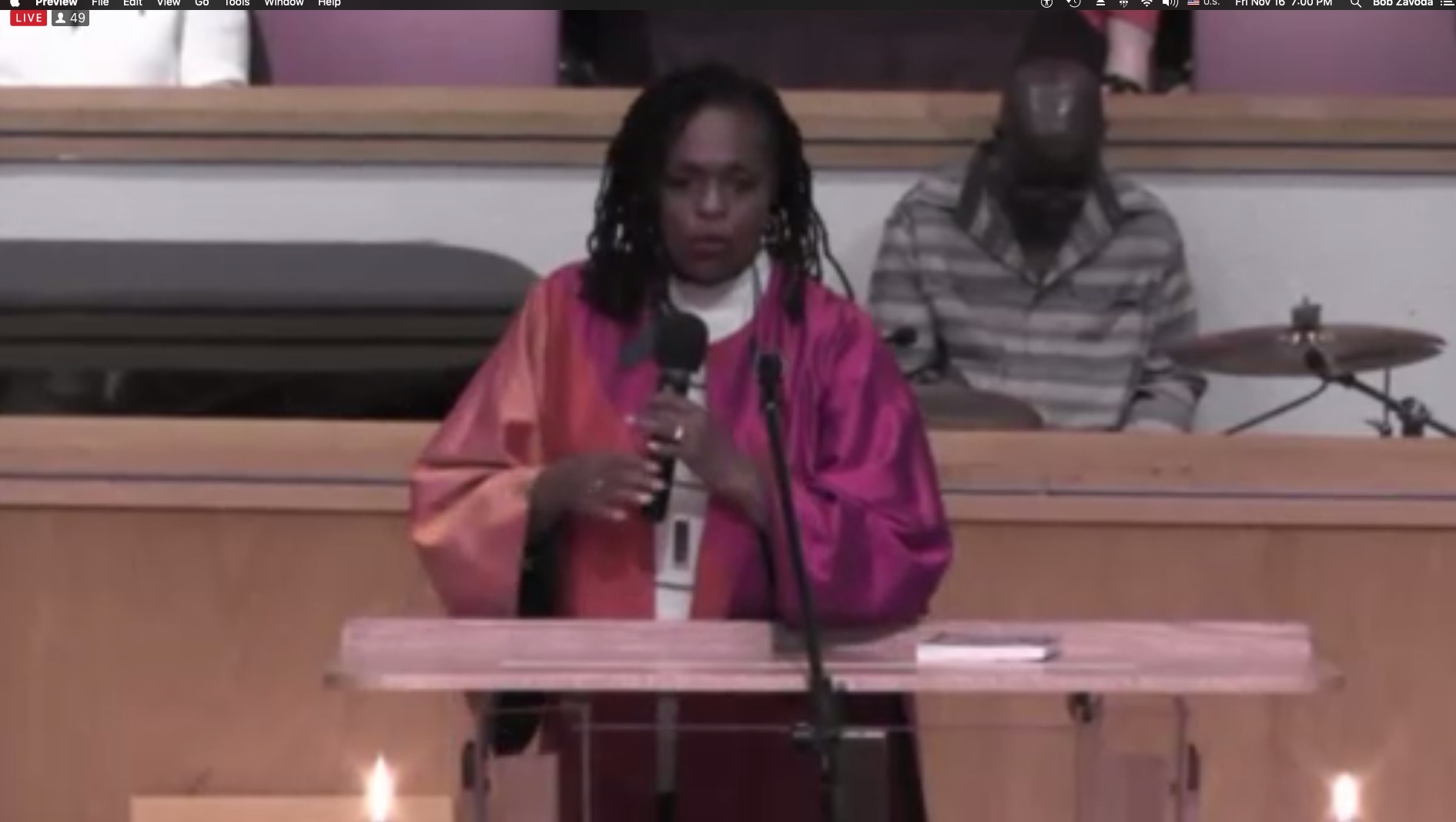 November 16, 2018
California Wildfires Death Toll Reaches 66;
Air So Bad in
San Francisco the City Halts Cable Cars
~ Weather Channel
November 15, 2018
Barber to House Dems: Act to restore
voting rights!
~
People's World
WASHINGTON—U.S. House Democrats must use their new – and growing – majority in the next Congress to act on restoring voting rights and to investigate and expose a variety of ills besetting the country, the Rev. William Barber says.
Barber, co-leader of the New Poor People's Campaign and founder of the Moral Mondays movement which has spread to other states from his native North Carolina, issued the challenge as part of his keynote and closing address at a Nov. 15 Economic Policy Institute awards ceremony.
~
California Wildfire Death Toll Climbs to 59 as Search
Continues for Camp Fire Victims; Statewide Public
Health Emergency Declared
~ Weather Channel
November 14, 2018
California Wildfire Death Toll Climbs to 50
as
Search for Camp Fire Victims Continues;
Flare-Up
Forces More Evacuations at Woolsey Fire
~ Weather Channel
November 13, 2018
With 42 Dead, Camp Fire Now
Deadliest and
Most
Destructive
California Fire on Record
~ Weather Channel
November 12, 2018
At Least 31 Dead and 200 Missing in Wildfire
That Destroyed Northern California Town
and Is Now the Most Destructive Fire in
California History
~ Weather Channel
November 11, 2018
At Least 23 Dead in Wildfire That Destroyed
Northern California Town and Is Now the
Most Destructive Fire in California History
~ Weather Channel
November 10, 2018
Nine Killed in Wildfire That Destroyed
Northern California Town and Is
Now the
Most Destructive Fire in California History
~ Weather Channel
November 9, 2018
PARADISE LOST: Cal Fire Says
Camp Fire
Has Wiped Out California Town
~ CBS Sacremento
November 11, 2018
Veteran's Day Sunday Sermon
**
Audio
*
(63 mins)
~ youtube
Was live in Greesboro, NC at the Greenleaf Baptist Church
Rev. Dr, William Barber, II
N.E. Pacific

D.C. Weather Forecast
N. Atlantic
W. Hemisphere
6:00 am
PT
N.O.A.A. Weather Composite
World Land and Ocean Temps Composite
Black Liberation Activist Freed
After
40 Years in Prison
~ teleSUR
Dark Money
-
Audio
*

(82 mins)

aired October 1 and 4, 2018
on PBS' ~ P.O.V
Above: Helena, Montana's Capitol
Dark Money - A Conversation Between

Hendrik Hertzberg and Jane Mayer
**
~ (2-yrs ago) youtube
The Poor People's Journal
Leading up to Election 2018

>>>
Here
<<<
Berkeley Indigenous
Peoples' Day Pow Wow
KPFA Live Sunrise at Alcatraz Part 1
*
(118 mins)
Bay area Indigenous historical extra
-
Part 2
*
(38 mins)
Ten Ways to Honor Indigenous Peoples Day

Craft a Sunday service around Indigenous Peoples Day. As you plan your service, invite those within your congregation who are Native people to participate in the planning and the service itself. Work to find out the pre- and postcolonial history of the land you are worshiping on and the Native peoples who have lived there.
Build and strengthen connections to nearby Native communities. Make plans to attend an event hosted by a Native group, organization, or cultural center. Find out how your congregation can be of assistance regarding the issues nearby groups are working on or struggling with.
Study the Doctrine of Discovery

and work to eliminate its effects.

At the 2012 General Assembly, Unitarian Universalists passed a resolution repudiating the Doctrine of Discovery and calling for study of the doctrine and elimination of its presence from the current-day policies, programs, theologies, and structures of Unitarian Universalism. Study and discuss the Doctrine of Discovery in your congregation and take action on the 2012 resolution.

Take action to rename

Columbus Day

"Indigenous Peoples Day"

. South Dakota, Alabama, and Hawaii have renamed Columbus Day. Other states (New Mexico, for one) have come close. Use the web to discover if anyone has tried to change the holiday in your city or state, and form a congregational task force to start or join the movement. Check out Denver's Transform Columbus Day Alliance for more info and resources.
Provide age-appropriate education on Native lives and cultures as part of your congregation's religious education programming. Take active steps to counter the dominant message that Native peoples are history by offering examples of present-day American Indian life, art, etc. Check out the books Through Indian Eyes and A Broken Flute. Go further by creating a task force to find out what your children learn about Columbus in school. You can use Lies My Teacher Told Me and Rethinking Columbus to evaluate textbooks and offer suggestions.

Hold a movie screening with a discussion afterward.

There are a plethora of films that can generate rich discussion. Check out VisionMaker Video, a video catalog by Native American Public Telecommunications of films by and about Native folks (see, for example, the film Columbus Day Legacy).
Host a congregation-wide common read and book discussion. Possible titles include An Indigenous Peoples' History of the United States by Roxanne Dunbar-Ortiz, A Little Matter of Genocide by Ward Churchill, Off the Reservation by Paula Gunn Allen, Bury My Heart at Wounded Knee by Dee Brown, Reinventing the Enemy's Language edited by Joy Harjo and Gloria Bird, The Woman Who Watches Over the World by Linda Hogan, and Soul Work edited by Marjorie Bowens-Wheatley and Nancy Palmer Jones. Support Native booksellers such as the North American Native Authors Catalog. You can also find books on the particular tribes in your area—check out this listing of books by tribe from Native Languages of the Americas. For more reading suggestions, visit Bringing the Doctrine of Discovery Back Home.

Engage with

"Immigration as a Moral Issue

.

" Indigenous peoples of Central America are a big part of today's desperate wave of migration to the United States. Find out how the United States has continued Columbus's violent legacy of colonialism against Central American peoples. Check out the study guide from Multicultural Growth & Witness.

Begin

Building the World We Dream About,

a transformational Tapestry of Faith curriculum on race and ethnicity.

This program allows participants to take concrete steps to heal, individually and as a congregation, the ways in which racism separates us from one another and spiritually stifles each of us.

Take action for the rights and needs of Native peoples!
Farm Aid 33
Saturday, September 22, 2018

on the lands


of the Mohican, now called Connecticut

Audio
*
♫
♫
(200 mins)
Pics
Fahrenheit 9-11
~ The Intercept
Glenn Greenwald:
@ggreenwald
Michael Moore:
@MMFlint
Medea Benjamin:
@medeabenjamin
All Lives Matter When:
Black,
Red,

Yellow,
and
Brown
Lives Matter!
Muslim, Jew, Christian, Spiritual, Pagan!
Gay, Straight, Trans, Poor, Elders, Disabled!
Honoring our ancestors compels the
choosing of Love over hate!

NoDAPL Solidarity
"
Water is Life
"
Mni Wiconi
**
Standing Rock!
November 18, 2018
N.O.A.A. website
6:00 am PT
- West
Winds & Night Lights
WeatherView
6:00 am PT
Europe, Africa and Middle East
Winds
& Precipitation
WeatherView
6:00 am PT
-
East
Winds & Night Lights
WeatherView
6:00 am PT
-
Pacific Rim
Winds & Precipitation
WeatherView
Scale:
U.S. Wildfires Reports
& Updates
Here
November 16, 2018
Update map
-
Here
National Preparedness Level 1


as of October 4 at 12 pm MDT (on a scale from 1 to 5)

Current hours for the National Fire Information Center are
(MST) 8:00 am - 4:30pm, Monday - Friday
208-387-5050

This report will be updated Monday through Friday.

Please check the IMSR for more information
.
November 16, 2018

Four large fires are currently burning throughout the West. Three of these four fires are located in California. The Camp Fire remains the most active with 141,000 acres burned.

A Type 2 Incident Management Team is mobilizing to Saipan, Northern Mariana Islands in support of Super Typhoon Yuta.

Weather: An overall flat westerly flow will be in place across most of the country as the low pressure area over the Mid-Atlantic moves off shore during the morning hours. Temperatures nationwide will be generally above average except across the northern Great Plains where colder air will filter southward from central Canada. Some snow will be possible along the leading edge of the system across northern Idaho, Montana, and the Dakotas. Amounts should be generally moderate or less. Winds across California should generally be light though continued low humidities and a lack of precipitation will keep fuels critically dry. In Alaska, warmer than average conditions are expected across the Interior as a strong high pressure ridge extends north from Sitka to Wainwright on the northern coast. Some snow is possible along the west coast from Nome south to Kongiganak.
U.S. Drought Monitor
- Updates every week
-
Here
| | |
| --- | --- |
| Antarctic Icecap | Arctic Icecap |
Update Here
~~ National Weather Forecast
-
Here
~~
World Jet Streams
-
Update
Here
"Winners Take All: The Elite Charade of
Changing the World" by
Anand Giridharadas
Billionaires Are the Lethal Monkey
on the
Back of the
American Public
-
Audio Interview
*
(30 mins) ~ Bob Scheer's Truthdig
"Winners Take All: The Elite Charade of Changing the World"–to my mind, this is an inside view of a new ruling class. I don't think I'm exaggerating. It's a world that–you have all the watering holes, the TED conferences, the Aspen, everywhere else; you've been there, you've been there as a journalist for The New York Times for about 12, 15 years. You studied at some elite institutions, you worked at the Aspen Institute. And what we meet in this book are people who are into a great exercise of delusion, that they can make out like bandits and still be Robin Hood. Is that not the deal?
~ Bob Scheer

Queen of Soul
Aretha Franklin
*
♫
♫
(389 mins)
Earthstrong
~
March 25, 1942
- August 16, 2018
~
1964 2017
Motown
*
♫
♫
(252 mins)
♫
♫
To Aretha's Funeral
>>
>>
>>
Glowing Elements in the
[Queen of]
Soul Nebula
Astronomy Picture of the Day
One Love
One Earth
Bob Marley
*
♫
♫
(236 mins)
Three Shows 1979-1980
-
pics here
September 2018

climate highlights for Tucson
Warmest and 58th wettest on record
24th straight month with the average monthly temperature being above normal
[Daily date F-6] [Temperature graph]
September 2018 climate recap for Tucson Arizona
Click on image for larger view

The last time the Tucson International airport recorded four straight months of above normal rainfall was back in 2006 (June - September). Since the previous three months this year were above normal at the airport, September had a chance to duplicate this feat. The month started off with scattered showers and thunderstorms each day through the 7th. Thereafter high pressure aloft brought much warmer daytime temperatures along with less thunderstorm activity on a daily basis for the next week plus. Triple digit high temperatures returned on the 8th and hung around through the 18th. This stretch of 11 straight days of triple digit highs ended up being one day shy of the September record which occurred in 1955.

Deeper moisture from the tropics moved across the area on the 19th which brought widespread showers and isolated thunderstorms. Periods of heavy rain resulting in localized areas of flooding. Thunderstorm activity trended less during the remainder of the month until moisture from Hurricane Rosa moved across the area on the 30th. Scattered showers and isolated thunderstorms occurred on the last day of the month and Monsoon 2018. Going into the last day of the month, the airport needed to recorded 0.17" to end up above normal. However only 0.01" of an inch was recorded at the airport which resulted in the month ending up below normal.

Temperature extremes for the month ranged from a high of 105° on the 14th and 15th to a low of 67° on the 20th. The monthly average temperature of 84.9° ranks as the WARMEST on record. The previous warmest September occurred in 2000 with an average monthly temperature of 84.8°. One high temperature record was tied (105° on the 15th) and one high minimum temperature was tied (78° on 24th) in September.

September 2018 daily high temperature departure from normal September 2018 daily low temperature departure from normal.

The International airport, which is the official recording location for Tucson, recorded 1.14" which ranks as the 58th wettest September on record. Rainfall amounts across the metro area, using several sources like rainlog, the Pima County Regional Flood Control District gages and CoCoRaHS, varied widely with values ranging from 0.25" to 2" with locally higher amounts, especially northwest of Tucson.



Monsoon 2018

- 8th warmest and 37th wettest on record

The forecast for Monsoon 2017, issued by the Climate Prediction Center back in mid-June, called for enhanced probabilities for ABOVE normal temperatures and rainfall. Tucson recorded the 8th warmest and the 37th wettest monsoon on record.

Haywood plot of monsoon rainfall at the official site in Tucson since 1895. Monsoon 2018 ended up with an average temperature of 86.7°, which is 1.7° above normal. Temperature extremes ranged from 112° on July 24th to a low of 65° on June 16th & 17th. The rainfall amounts, as is usual during the monsoon, varied widely across the metro area with values ranging from 4" to 9" with locally higher amounts. For the fifth straight monsoon, the airport recorded normal or above normal rainfall with the 2018 total coming in at 7.02". Click on the image to the right to see how 2018 compared to the historical record.



2018


The average yearly temperature of 75.4° ranks as the WARMEST on record to date. The average high temperature of 89.2° through the end of September ranks as the 3rd warmest on record. The average low temperature of 61.6° through the end of September ranks as the 2nd warmest on record. Rainfall at the airport, which is the official recording location in Tucson, stood at 8.99" which ranks as the 56th wettest January through September period on record. The 2017-2018 hydrological water year, which runs from October 1st to September 30th, ranks as the 35th driest on record with 9.58".



Looking ahead into October


The Climate Prediction Center forecasts equal chances for either above normal, normal or below normal temperatures. Thanks to the remnant effects of Hurricane Rosa and its deep tropical moisture, October is likely assured of being above normal on the rainfall side.

Normal monthly high temperature 84.8°
Normal monthly low temperature 57.3°
Normal monthly temperature 71.0°
Record high temperature 102° on October 1, 2010 & October 3, 1993
Record low temperature 26° on October 30, 1971
Warmest October (avg.) 77.5° in 2016
Coldest October (avg.) 63.8° in 1908
Normal rainfall 0.89"
Wettest October day 2.96" on October 1, 1983
Wettest October 4.98" in 2000 & 1983
Driest October 0.00" in 2017 (last of 12 occurrences)
Daily normal | Daily records
The number of daylight hours will decrease from 11 hours 50 minutes on the 1st to 10 hours 54 minutes on the 31st, a loss of 56 minutes.
Translate UTC into your local time:
United States
Atlantic Daylight Time| subtract 3 hours from UTC
Atlantic Standard Time| subtract 4 hours from UTC
Eastern Daylight Time| subtract 4 hours from UTC
Eastern Standard Time| subtract 5 hours from UTC
Central Daylight Time| subtract 5 hours from UTC
Central Standard Time| subtract 6 hours from UTC
Mountain Daylight Time| subtract 6 hours from UTC
Mountain Standard Time| subtract 7 hours from UTC
Pacific Daylight Time| subtract 7 hours from UTC
Pacific Standard Time| subtract 8 hours from UTC
Alaska Daylight Time| subtract 8 hours from UTC
Alaska Standard Time| subtract 9 hours from UTC
Hawaii-Aleutian Standard Time| subtract 10 hours from UTC
Samoa Standard Time| subtract 11 hours from UTC
The undersea cables that keep the Internet alive
Total Solar Eclipse

photo credit
Slooh
After the Gold Rush
*
♫
♫
(3 mins)
Dateline Respect:
One Love
A Primitive Camping Health Retreat
One Earth
~We The People promise~
Learn from our Mistakes.
Create Peace and Happiness.
Interact with No Harm

.
Teach through Kind Action.
Experience Wilderness Quiet.
Share Our Bliss, Dance and Song.
Build Green. Protect and Care.
Recycle, Reuse and Create
Sustainable Systems.
Save Our Wild Earth,
Her Animals, Land,
Plants, Water and Air.
And further,
~We The People promise~
"We of the Green Artisan Communities,
join in spirit and in our street presence
with Bernie Sanders, non-corporate
Democratic members of Congress,
trade unions, senior groups, health
care activists and all those who
believe in a Green Earth economy
with social justice."
"To all corporate fascists, to the
corporate Republicans, to the
corporate Democrats and any
and all other
1% privatizers,
Loudly, Clearly and Honorably:
We The People, will honorably,
never let you throw nearly 30
million of us off of health
insurance (no matter how lousy),
make massive cuts to Medicaid
and defund Planned Parenthood.
We The People demand
N
I
M
A
!
(HR676)
It's all about Green Art & Music,
Mom Earth, People over profit
and getting along.
N
I
M
A
!
(HR676)
N
ational
I
mproved
M
edicare for
A
ll
"Is the Healing of the Nation!" - a Jahmin' Notion!"
The Poor People's Journal
Leading up to Election 2018

>>>
Here
<<<
Headline Archives:
1
1A
2
3
4
Archived Data Base Additions

Added November 1 ..... through October 31
Note: Archived web sites may have out-dated or broken links
2003-2005
2006
2007
2008
2009
2011
2012
2013
2014
2015
2016
2017
2018
B

l

a

c

k

H

i

s

t

o

r

y

ROCKS!
Back to the Top
PP's Journals:
1
2
3
4