Creative Commons Lic
●
A

b

o

u

t
●
Table of Contents
●
B
l
a
c
k H

i

s

t

o

r

y
●
Underlined Italic
Live Links
●
Videos
**
&
Tunes
*
♫
♫
Dedicated to:
Mom Aunt Dodie Aunt Peggy Cousin Terresa
Aunt Jeannie Connie Starry
Billy
Marc G
Of and By We The Poor! Independent Indy News! Green Artisan Communities and Music Culture! Support Indy Culture!
IRJ Vol. 1, 2, 3 - First Edition Nov 4, 2017
- Last Outdoor Publishing
@bob outdoor
Indy River Outdoors
B
l
a
c
k H

i

s

t

o

r

y Month
Be Jahmin'!
I
n

d
y
R
i

v
e

r
News
!
Tues
day, February
19,
2
0
1
9
#ClimateStrike
#ClimateEmergency
#ExtinctionRebellion
International
Protest
Fridays ROCK!
Stop Global Warming! Protests Continue!
We
Be
Jahmin'!
Zero carbon, Zero nukes, Zero gmos.


Green Peace and
People
Economy!


No more Climate
Killing
Greed!
#ClimateEmergency
!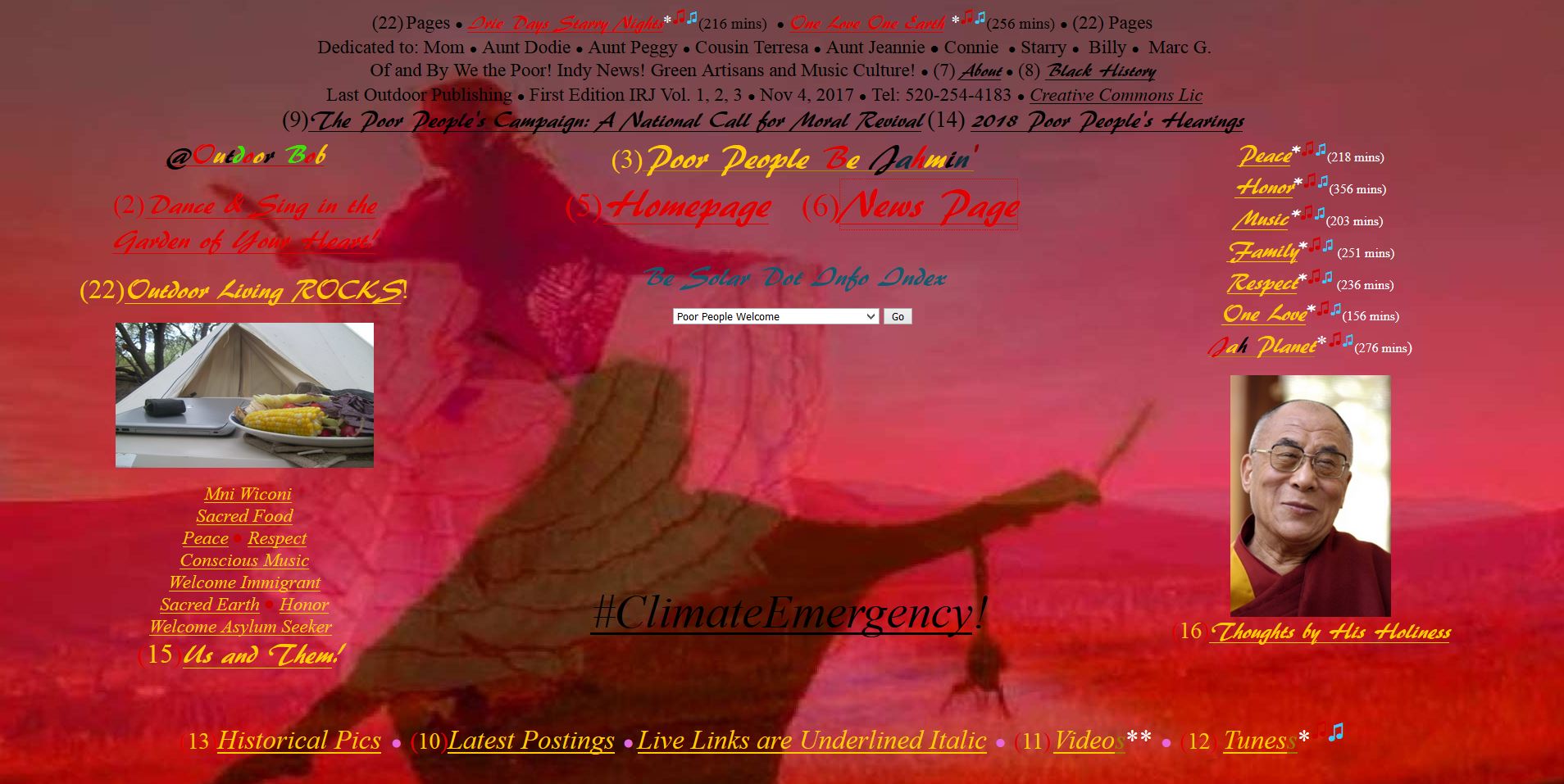 One Bright Day
*
♫
♫

(174 mins
)

Burning Spear, Peter Tosh
and Buds Be
Jahmin'!
2
Years
+

29 Days
"Who's gonna stand up?"
Dateline:
Babylon
February
19,
2019
Rev. Barber and Al Gore
Visit
Buckingham, VA
**
Audio
*(120 mins)
~ fb
Was Live!
Ecological devastation of the proposed Atlantic Coast Pipeline
Skip to
More Indy News Coverage
~
~
There Are
140,000,000 Poor Americans!
(Almost One of Every Two!)
B
l
a
c
k H

i

s

t

o

r

y
Be Jahmin'!
"
I
am Honored
to Publish
I
n
d
y
R
i

v
e
r'

s
A Poor People's Journal

"
~ Outdoor Bob ~



(3)
Poor People
B
e
J
a
h
m
i
n
'
!
♫
♫
Us and Them
♫
♫
Sonoran Desert
Outdoors Published!
R
o
c
k

-

n

-

R

o

l

l

Will Never Die!
*
♫
♫
(291 mins)
C
l
i
mate

Crisis must be fought!
The Reign of Extremists

Ends NOW!
Babylon Break
*
♫
♫
(154 mins)
Bruce Cockburn, Neil Young
,
Tommy

James and the Shondells
&
Buds
~
The Green New Deal
~
It's Now Official!
The Plan for a Green New Deal
Introduced

Feb. 7, 2019,
Sen. Ed Markey (D-MA) and
Rep. Alexandria Ocasio-Cortez (D-NY)
Mother Earth Be Jahmin'!
~
One Love
One Earth
~
Must Know News: For and by the Poor
~
~
Must Have Conscious Music
~
~
Respect. Love. Honor. Music. Peace. Family.
~
Be Solar Dot Info Index
A Poor People's Journal
Freely Sponsored by:
Forward together.
Not one step back!
With
Honor
*
♫
♫
(356 mins)

Wavy Gravy, Bob Weir, Ace of Cups,
Buffy Sainte-Marie

,
Freddy Greene
**

Willie Nelson, Jimmie Dale Gilmore,
Rev. William Barber, Yara Allen
Poor People's
Founding Members
& lotsa Lovin' Folks Be Jahmin'!
~
~
Multi-faith Clergy at work and ROCKIN'!
~
~
"With the Power of Sou
l,
~
~
Anything is Possible."
~
Jimi Hendrix
*
♫
♫
(440 mins)
~
Poor People
R

OCK!
~
~
N.O.A.A. Weather
6:30 am
PT
W. Hemisphere
N.O.A.A. Weather Composite
6:28 am PT
-
Eastern Hemisphere
Winds & Night Lights
WeatherView
I
n
d

y
R
i
v
e
r
Sonoran Desert Outdoor Home
The World is a Ghetto
*
♫
♫
(65 mins)
Bruce Cockburn, Cheech and Chong

War,
Bob and Ziggy Marley & Buds
~
Radio Free Alcatraz
Aired

Oct. 8, 2018

Alcatraz Island, CA

Indigenous People's Day
*
♫
♫
(118 mins)
~
S

t

a

n

d

i

n

g

R

o

c

k

,

N

D
Weather update
-
Here
Tucson, AZ
-
Here
U.S.
N.E. Pacific

D.C. Weather Forecast
N. Atlantic
World Land and Ocean Temps Composite
~
What is killing our Mother?


Listen Up!



House Majority Leader!
Senate Minority Leader!
WAKE UP!
Corporations GO!

Leave Our House!
End of the War Economy!
$15 minimum wage and Unions!
Guaranteed Living Income for All!
National Improved Medicare for All!
End of Systemic Racism and Poverty and I.C.E.!
Student Debt Jubilee and Free State University Tuition!
Zero Nuclear and Zero Carbon Energy Consumption NOW!
Restoring and expanding the Voting Rights Act. Ending racist
gerrymandering, implementing automatic voter registration at the age of 18.
Making Election Day a holiday and extending the right to vote to all current
and formerly incarcerated people!
A
Green
NEW DEAL!
Keep it in the GROUND!
Fridays We Protest Vigil at Outdoor Bob's Gate!
#Climate Strike
Fridays
Dateline:
Babylon
Continues:
~
~
February 18, 2019
~
February 17, 2019
Jesus Christ's Lesson for the 21st Century
~ Truthdig

Truthdig with Bob Scheer
-
Audio
*
(35 mins)
~
February 16, 2019
On
February 16, 2019
THERE WAS:
Livestream1
**
(15 mins)
~ fb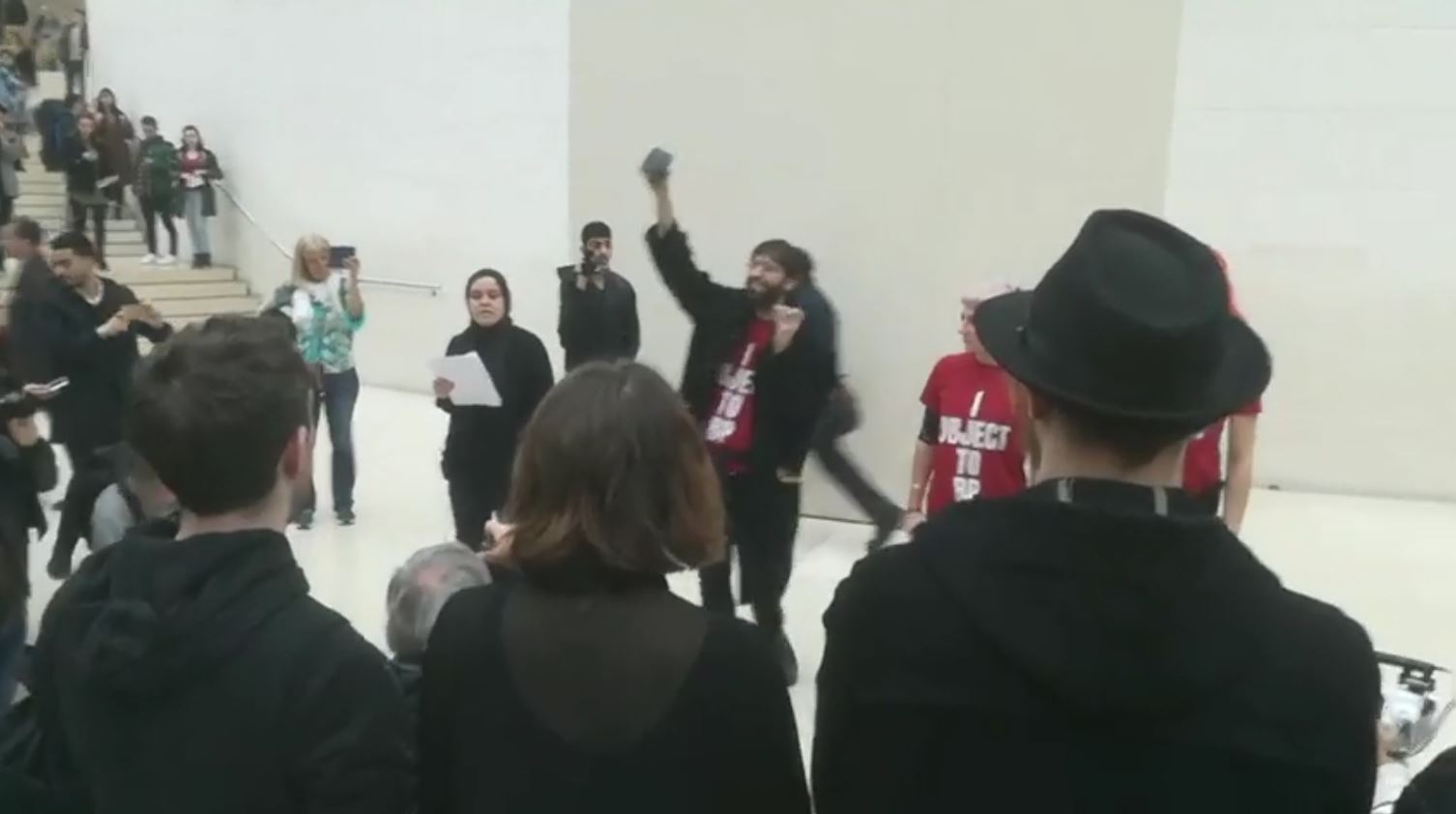 Livestream2
**
(45 mins)
~ fb
@ReclaimOurBard
TAKE OVER of the
@britishmuseum
~
February 15, 2019✓
~
February
♥♥,
2019
~
February 13, 2019
5:00 pm PT
Emergency Mass Call: Green New
Deal in the Senate
~ Sunrise Movement
~
February 12, 2019
February 11, 2019
February 10, 2019
~
February 9, 2019
Please, Sign the Petition!
Demand Congress stop the immoral
and unconstitutional seizure
and sale of Oak Flat!
March to Oak Flat!
5th Annual March to Oak Flat, Feb. 8-10-2019
The Apache Stronghold has just announced the invitation for all to join the 5th Annual Oak Flat walk, February 8-10, 2019. We hope you can join us in solidarity with our spiritual journey of prayer and ceremony in protection of Chi'Chil'Ba'Goteel. Each year, hundreds of people have walked together for the 45 miles from the San Carlos reservation, through the mining towns of Miami and Globe, up to Oak Flat. Everyone is invited! This walk is of spiritual importance to the Apache Stronghold and a way for us all to commit to protection of Oak Flat each year that the mine has still not been built!
The Green New Deal's huge flaw
~ Slate
"We build more than 1 million new homes a year —
we just need to put them in the right places."
~
February 8, 2019
✓
~
February 7, 2019
There's now an official Green New Deal
~ Vox
12:30pm ET,
Sen. Ed Markey (D-MA) and
Rep. Alexandria Ocasio-Cortez (D-NY) will
introduce a Green New Deal resolution
~
February 6, 2019
The First House hearing on climate
change in
more than eight years
**
~ C-SPAN &
fb
**
Was Live at 7 am PT
(210 mins)
"We must learn to live together as brothers or perish
together as fools." - MLK
~ Hiphop Caucus
~
February 5, 2019
The Global Extinction
Rebellion Begins
~ Truthout
Hands Off Valenzuela
**
(starts at 34:39)
JAMES EARLY WITH DANNY GLOVER ~ TRNN
Two not guilty verdicts, hung jury
for five
other defendants in Detroit
Poor People's
Campaign trial
~
Michigan Poor People's Campaign
Blackface Is Just One Part
of the Problem
~ Rolling Stone
~
February 4, 2019
The Black Experience in America
~ The Indypendent
~
February 3, 2019
Thousands 'Yellow Vests' Protesters Maarch
Against Macron's
Gov't Amid Heavyy
Police Crackdown
~ teleSUR
The Border Story Our Leaders Don't
Want You to Hear
-
Audio
*

(30 mins) ~ Bob Scheerer's Truthdig
~
February 2, 2019
Poor People's Campaign
march through Atlanta.
May 10, 1968
What if the Poor People of all races formed a political alliance?
Jarvis DeBerry, columnist, updated
Feb. 1, 2019
NOLA.com
When Hurricane Michael ripped the roof off a federal prison in the Florida Panhandle town of Marianna in October, the inmates there were transferred to Yazoo City, Miss. Thus, the prison's employees were required to make a seven-hour drive and work in two-week stints to keep their positions. In December, the federal government was partially shut down, which meant those federal employees were traveling back and forth to work in Mississippi without getting paid.
"I voted for him, and he's the one who's doing this," 38-year-old Crystal Minton, a secretary at the prison, said of President Donald Trump to The New York Times. "I thought he was going to do good things. He's not hurting the people he needs to be hurting."
The Rev. William Barber spoke about more than a hundred million hurting Americans in an address at Tulane University's McAlister Auditorium Wednesday night (Jan. 30), without (to my recollection) specifically referring to the shutdown. But Barber made sure to make this point: Poor white people have repeatedly been harmed by politicians they believed would only hurt others.
Barber pastors a church in North Carolina, where, according to a 2016 federal appeals court ruling, lawmakers passed voting restrictions designed to "target African-Americans with almost surgical precision." Politicians who have been ushered into office thanks to voter-suppression efforts, Barber argued, have passed laws that have punished the poor.
And most of America's poor are white.
Barber began his speech by thanking his hosts for not inviting him to a Martin Luther King celebration. "You don't celebrate martyrs," he said. To honor them, he said, you "go to the place they fell, reach down in the mud, pick up the baton and go the next mile."
When King was assassinated in 1968, he was leading what he called a Poor People's Campaign. Fifty years later, Barber co-chairs the Poor People's Campaign: A National Call for Moral Revival. "The first goal of this is to change the narrative," he said before Wednesday's speech. Referring to the federal definition of poverty, he said, "All you have to do is be single and make $12,000, and they say you're not poor. We know that's not true."
About 40,600,000 people in the United States (12 percent of the population) meet the government's stingy definition of poverty. But according to the "Report on the Economic Well-Being of U.S. Households in 2017," published by the Federal Reserve, "Four in 10 adults in 2017 would either borrow, sell something, or not be able to pay if faced with a $400 emergency expense … One in five adults cannot cover their current month's bills, and one in four skipped a medical treatment in the past year due to an inability to pay."
In his speech, Barber said that about half of Louisiana's 4.7 million residents are struggling financially, but, "I bet you haven't had a person run for office talk about the poor." Well, certainly not in a way that suggests that the poor are deserving of advocacy, respect and public officials who will work to make their lives less miserable.
Of course, politicians aren't going to champion the poor because they all live in a country where everybody is (at minimum) middle class. Of course, it's mathematically impossible for everybody to be in the middle, but that's the lie that millions of impoverished Americans have told themselves: that they're in the middle, too. Or that they're in a temporary bad spot that could be cured with a little more hard work.
When I asked Barber if a general reluctance to use the word poor helps explain resistance to a Poor People's Campaign, he said he and his co-chair, the Rev. Liz Theoharis, were encouraged to think about a word other than "poor" when resurrecting King's campaign. "People said we might not want to call it that," Barber said.
Imagine that: trying to address a problem you won't even name.
I don't know if Barber and Theoharis ever seriously considered calling their campaign something else, but Barber said that the people they're fighting for made it plain the language they should use: "We want folks to know we're poor …I'm not gonna tell that lie anymore that I'm middle class. I'm one check away from poverty." And because 62 million Americans are working "every day for less than a living wage," Barber said, they're not even one check away from poverty.
Segregation, King said in a 1965 speech, is what the poor white man in the South got instead of decent wages. "And when his wrinkled stomach cried out for the food that his empty pockets could not provide, he ate Jim Crow, a psychological bird that told him that no matter how bad off he was, at least he was a white man, better than the black man."
The prison employee's quote that she elected Trump to hurt other folks – but not her – is symptomatic of the disease King diagnosed. Barber is trying to do what King was trying to do when he was murdered: Bring the poor of all races together to demand changes that help
them all.
"The poor in the South hold the key," he said. "These states are not red states. They are unorganized and undermobilized states. If you change the South, you change the country."
~
February 1, 2019
Today was

#ClimateStrike!
AND THE FIRST DAY OF

BLACK HISTORY
MONTH!
~
Farm Aid 33
Saturday, September 22, 2018

on the lands


of the Mohican, now called Connecticut

Audio
*
♫
♫
(200 mins)
Pics
Medea Benjamin:
@medeabenjamin
All Lives Matter When:
Black,
Red,

Yellow,
and
Brown
Lives Matter!
Muslim, Jew, Christian, Spiritual, Pagan!
Gay, Straight, Trans, Poor, Elders, Disabled!
Honoring our ancestors compels the
choosing of Love over hate!

NoDAPL Solidarity
"
Water is Life
"
Mni Wiconi
**
Standing Rock!
February 17, 2019
6:00 am PT
- West
Winds & Precipitation
WeatherView
6:00 am PT
Europe, Africa and Middle East
Winds
& Precipitation
WeatherView
6:00 am PT
-
East
Winds & Night Lights
WeatherView
6:00 am PT
-
Pacific Rim
Winds & Precipitation
WeatherView
6:00 am PT
North Pole
Winds
& Precipitation
WeatherView
6:00 am PT
South Pole
Winds
& Precipitation
WeatherView
Scale:
U.S. Wildfires Reports
& Updates
Here
Update map
-
Here
February8, 2018
National Preparedness Level 1


as of October 4 at 12 pm MDT (on a scale from 1 to 5)

Current hours for the National Fire Information Center are
(MST) 8:00 am - 4:30pm, Monday - Friday
208-387-5050

This report will be updated Monday through Friday.

Please check the IMSR for more information
.
February 8, 2019

Nationally, five new large fires were reported and five were contained. There are currently two large active fires: one each in Colorado and Florida.

Weather: Another pair of weakening storm systems will drop southeast out of the Gulf of Alaska into the Pacific Northwest beginning Friday bringing more low elevation rainfall and mountain snow as far south as the High Sierra in California and as far east as the Continental Divide. Overall, temperatures across the west will continue to be below average. As the systems approach windy, dry conditions will create a critical fire weather environment across eastern New Mexico and West Texas through Saturday before abating. The first of the two systems will move into the northern Great Plains and the Upper Midwest by Sunday afternoon bringing snow to the northern tier of the nation. The second system will dig south into California where it will slowly move east along the Mexican Border through Tuesday. Ahead of it, expect periods of heavy rainfall across the Southeast. Behind it, expect a warmer, northerly flow to develop which should promote near-average temperatures midweek. A third and fourth system will drop south from the Gulf of Alaska on Wednesday and Thursday nights producing more valley rainfall and mountain snow. Temperatures will cool slightly in response to the passing systems.


U.S. Drought Monitor
- Updates every week
-
Here
| | |
| --- | --- |
| Antarctic Icecap | Arctic Icecap |
Update Here
~~ National Weather Forecast
-
Here
~~
Feb.
16,
2019 7:00 am PT
Jet Stream

North South
Update
Here
"Winners Take All: The Elite Charade of
Changing the World" by
Anand Giridharadas
Billionaires Are the Lethal Monkey
on the
Back of the
American Public
-
Audio Interview
*
(30 mins) ~ Bob Scheer's Truthdig
"Winners Take All: The Elite Charade of Changing the World"–to my mind, this is an inside view of a new ruling class. I don't think I'm exaggerating. It's a world that–you have all the watering holes, the TED conferences, the Aspen, everywhere else; you've been there, you've been there as a journalist for The New York Times for about 12, 15 years. You studied at some elite institutions, you worked at the Aspen Institute. And what we meet in this book are people who are into a great exercise of delusion, that they can make out like bandits and still be Robin Hood. Is that not the deal?
~ Bob Scheer

Queen of Soul
Aretha Franklin
*
♫
♫
(389 mins)
Earthstrong
~
March 25, 1942
- August 16, 2018
~
1964 2017
Motown
*
♫
♫
(252 mins)
♫
♫
To Aretha's Funeral
>>
>>
>>
Glowing Elements in the
[Queen of]
Soul Nebula
Astronomy Picture of the Day
One Love
One Earth
Bob Marley
*
♫
♫
(236 mins)
Three Shows 1979-1980
-
pics here
The undersea cables that keep the Internet alive
Total Solar Eclipse

photo credit
Slooh
After the Gold Rush
*
♫
♫
(3 mins)
One Love
A Primitive Camping Health Retreat
One Earth
~We The People promise~
Learn from our Mistakes.
Create Peace and Happiness.
Interact with No Harm

.
Teach through Kind Action.
Experience Wilderness Quiet.
Share Our Bliss, Dance and Song.
Build Green. Protect and Care.
Recycle, Reuse and Create
Sustainable Systems.
Save Our Wild Earth,
Her Animals, Land,
Plants, Water and Air.
And further,
~We The People promise~
"We of the Green Artisan Communities,
join in spirit and in our street presence
with Bernie Sanders, non-corporate
Democratic members of Congress,
trade unions, senior groups, health
care activists and all those who
believe in a Green Earth economy
with social justice."
"To all corporate fascists, to the
corporate Republicans, to the
corporate Democrats and any
and all other
1% privatizers,
Loudly, Clearly and Honorably:
We The People, will honorably,
never let you throw nearly 30
million of us off of health
insurance (no matter how lousy),
make massive cuts to Medicaid
and defund Planned Parenthood.
We The People demand
N
I
M
A
!
(HR676)
It's all about Green Art & Music,
Mom Earth, People over profit
and getting along.
N
I
M
A
!
(HR676)
N
ational
I
mproved
M
edicare for
A
ll
"Is the Healing of the Nation!" - a Jahmin' Notion!"
The Poor People's Journal
Leading up to Election 2018

>>>
Here
<<<
Headline Archives:
1
1A
2
3
4
Archived Data Base Additions

Added November 1 ..... through October 31
Note: Archived web sites may have out-dated or broken links
2003-2005
2006
2007
2008
2009
2011
2012
2013
2014
2015
2016
2017
2018
2019
B

l

a

c

k

H

i

s

t

o

r

y

ROCKS!
I
r
i
e

!
Back to the Top
PP's Journals:
1
2
3
4