Creative Commons Lic
:
Underlined Italic Yellow Gold
are
Be Solar Dot Info
links
Videos
**
&
Tunes
*
♫
♫
&
Live Streams
Best with
Firefox
or
Safari
or
Tor
Of and by We the People! Independent "Indy" News! Green Artisan Communities and Music Culture! Please Support Indy Media!
Aloha 'Ohana
All in no one out!
June 10, 2017
The Political Revolution Now:
Bernie Sanders
**
Schedule at

Common Dreams

-
Here
Nina Turner Show Premiere with Bernie Sanders
June 10, 2017
The People's Summit: LIVE from Chicago
- Here
**
Last Year - Peoples Summit 2016
Video with RoseAnn deMoro, Juan Gonzales, Naomi
Klein,
John Nichols and Rosario Dawson
- Here**
Left Forum 2017:
-
Here
**
(91 mins)
Jill Stein, Chis Hedges, Media Benjamin, Margaret Kimberley
Unsettling Canada: A National Wake-up Call
by
Arthur Manuel and
Grand Chief Ronald M. Errickson - Foreward by Naomi Klein
(pdf)
"
Aboriginal Rights as Economic Rights: Whose Land is Canada Selling?"
Lecture by Arthur Manuel
, who died this past January 11, 2017 - Here**
5/28/2017 -
Chris Hedges
-
The Artist as Prophet
"The Israeli writer and dissident Uri Avnery asked an Egyptian general how the Egyptians managed to surprise the Israelis when they launched the October 1973 war. The general answered: "Instead of reading the intelligence reports, you should have read our poets."

The deep malaise, rage and feelings of betrayal that have enveloped American society are rarely captured and almost never are explained coherently by the press. To grasp the savage economic and emotional cost of industrialization, the destruction of our democratic institutions, the dark undercurrent of nihilistic violence that sees us beset with mass shootings, the attraction of opioids, the rise of the militarized state and the concentration of national wealth in a tiny cabal of corrupt bankers and corporations, it is necessary to turn to a handful of poets, writers and other artists. These artists, who often exist on the margins of mass culture, are our unheeded prophets.

"What Kierkegaard, Dostoyevsky, Nietzsche, and most other prophets have in common is a strong ethical outlook and a heightened sensitivity to attitudes and morals—the obvious ones as well as those that lurk beneath the surface," the painter Enrique Martinez Celaya said in an essay. "They also share urgency. Prophets are not inclined to wait for the right time. Their prophetic vision demands action, leaving little room for calculation and diplomacy. Truth, for the prophets, is not merely a belief but a moral imperative that compels them to speak and act with little regard for convenience or gains. But prophets need to do more than speaking and acting, and it is not enough to be apocalyptic. Something must be brought forward."" [continued]

Republican Gets Destroyed During Townhall Over Trumpcare


May 10 -

Tom MacArthur Get[s] Exposed by Medical Doctor
-
Here
**
Banksy's Latest YUGE Mural
- from the Daily Mail, U.K.
Port of Dover, U.K. - Workman Appears to Chip Away at
One of the Twelve Stars Depicting the European Union Flag
Saturday, May 13th
Mother's Day Weekend Celebration
with Molly Rose, Saritah, Irae Divine
and other Special Guests
Mother's Day Reggae
Jimmy Carter and Bernie Sanders Explain
How Inequality
Breeds Authoritarianism
-
Video Part1
-
Video Part2
'Quiet No More': Hundreds of Thousands
Ready to Strike on May Day
-
Here
CLIMATE MARCH!
Record Temps in D.C.


200,000 Rally!


By 2:00pm, "organizers had succeeded in their goal
of completely surrounding the White House,"

Streamed April 24, 2017
Noam Chomsky and Amy Goodman
**
The Prospects of Survival
-
Here
**
Address at Mullin Centre, UMASS Amherst
EARTH DAY is Always NOW!
Thirty Seconds to Midnight
The Last Wakeup Call
-
Here
**
~
a new film by Regis Tremblay
Chris Hedges' latest
-
The Reign of Idiots
"The idiots take over in the final days of crumbling civilizations. Idiot generals wage endless, unwinnable wars that bankrupt the nation. Idiot economists call for reducing taxes for the rich and cutting social service programs for the poor, and project economic growth on the basis of myth. Idiot industrialists poison the water, the soil and the air, slash jobs and depress wages. Idiot bankers gamble on self-created financial bubbles and impose crippling debt peonage on the citizens. Idiot journalists and public intellectuals pretend despotism is democracy. Idiot intelligence operatives orchestrate the overthrow of foreign governments to create lawless enclaves that give rise to enraged fanatics. Idiot professors, "experts" and "specialists" busy themselves with unintelligible jargon an ....."
Nationwide April 4
"1984"
Henry A. Giroux
| The Culture of Cruelty
in Trump's America
-
Here
& Here*
&
Clearing the FOG Radio Hour
with
Margaret and Kevin
- The Student Debt Crisis*
Live March 16, 2017
Reverend Billy and the Stop Shopping Choir
"The Cathedral of St. John the Divine is pleased to host Creative Time and the New York Public Library for In Situ: How to Reasonably Believe in God. The talk will feature Iranian-American artist Shirin Neshat and Slovenian philosopher Slavoj Žižek, moderated by Sister Helen Prejean. A performance by Reverend Billy and the Stop Shopping Choir will kick off the event." - Here**
Mar 23

was World Water Day: Standing
With Water Protectors Everywhere
Chuck Berry Rules!
October 18, 1926 to March 18, 2017
- Here
Postcards from the End of America

Author:
Linh Dinh
- Complete Archive
Interview
**
with Chris Hedges
3 years ago WIPP Accident
Leaks Deadly Plutonium 239
Water Protectors Called Back!
-
Here
"Groups and individuals are already moving to
support the new wave of #NoDAPL action. Following
Trump's memorandums, a group of U.S. veterans
launched a fundraiser
for the water protectors."
Mobile Avenger Missile Launcher
Appears at Standing Rock
Willie and Bob talk in Maui. Micha mixes.
This is a partial transcript:
"[Bob]Scheer asks,
So you're still optimistic?
[Willie]Nelson replies:
I'm still optimistic that all
the people are coming in and it will
be as great tomorrow as it is today.
So you're not for building walls?
Scheer asks.
Fuck no, says Nelson."
Audio Interview
Part1
* -
Part2
*
Bernie Sanders Vows to Hold WV
Town Hall 'In The Streets'
-
Here
Did not free Julian
Freed Chelsea
Did not free Leonard
Did not free Mumia
A letter from Neil & Daryl
concerning Thanksgiving
Tales of a feast on Plymouth plantation in the Autumn of 1621, where of pilgrims from the Mayflower, celebrated the harvest, shared and broke bread with the first Americans are false. They are still used as inspiration and shared with children, teaching them the beauty of gratitude.
But it is now widely understood this Thanksgiving story is a fictional history. It was invented to whitewash the vicious genocide wrought upon the native inhabitants of this magnificent continent. Not only did the Europeans try to eradicate native populations, but they made every effort to eviscerate their culture, their language and eliminate them from these coveted lands.
From Plymouth Rock to Standing Rock, this lie has made our Thanksgiving Day a Day of Mourning for the First Nations, all the tribes big and small, those who came before us.
A few weeks ago we traveled to visit the Standing Rock Sioux In North Dakota. We arrived at this unprecedented historical gathering of over five hundred tribes and thousands of others standing on the front lines to protect water, to state the most basic human truth, to say water is life. Despite the painful history, today they fight peacefully for us all.
The camp grows as winter comes. Standing in protection of our most vital life support systems, but also for the rightful preservation of Native American cultural ways and their sovereignty. Everyone we talk with is committed to peaceful resistance. Weapons alcohol and drugs are forbidden there.
Standing together in prayer to protect water displays a deeply rooted awareness of life's interconnected nature, and of the intrinsic value and import of traditional ways. This growing movement stems from love, it is the most human instinct to protect that which we love. An eager and engaged youth are at the core of this pipeline route resistance, learning from a population of elders who pass down unforgotten knowledge.
It is an awakening. All here together, with their non-native relatives, standing strong in the face of outrageous, unnecessary and violent aggression, on the part of militarized local and state law enforcement agencies and National Guard, who are seemingly acting to protect the interests of the Dakota Access Pipeline profiteers, at a cost of hundreds of thousands of tax-payer dollars, above all other expressed concerns. They stand against corporate security forces, the county sheriff and the National Guard. Standing while being hit with water cannons, mace, tear gas, rubber bullets. Standing without weapons and praying, the water protectors endure human rights abuses in sub freezing temperatures. Supplies arrive from all over as the social media universe shares the heartbreaking news to the world, that an American corporate media is not free to report. Thus, it is the ugliness of corporate America, seen around the world.
But they stand, their hair frozen from water cannons. They stand for all that is good and they stay strong.
We are calling upon you, President Barack Obama, to step in and end the violence against the peaceful water protectors at Standing Rock immediately.
We will be going back to support the water protectors again.
Let us all stand with them in thanks, in appreciation for the ancient wisdom they carry, In thanks for this opportunity for true gratitude.
For giving us a path forward.
For trying to show us a road to survival.
We offer our support and our respect. We hear the call to protect the water protectors to listen, learn and get engaged. They are brave. We thank them.
And we can give thanks for the bounty.
Like water on the garden of activism, America's surprise president brings a bounty of opportunity. The great issues of our time are now brightly illuminated and people are becoming more aware of them than ever, from sea to shining sea, from Standing Rock to Wall Street.
The surprise president elect was not the winner of the popular vote, does not have a mandate for the change of ideals envisioned. Keep in mind, close to over two million more people voted for another candidate.
Nor is the surprise president the leader of the free world. Two hundred of the worlds nations believe in science, above the profits of the oil, gas and coal industries, and are committed to working together to protect the future from an unchecked climate crisis.
The surprise president claims he does not believe in climate science nor the threats it presents and his actions and words reflect that claim in tangible and dangerous ways.
Do not be intimidated by the surprise presidents' cabinet appointees as they descend the golden escalator. Those who behave in racist ways are not your leaders. The golden tower is not yours. The White House is your house.
Your growing activism in support of freedom over repression, addressing climate change, swiftly replacing a destructive old industries with safe, regenerative energy, encouraging wholistic thinking in balance with the future of our planet; that activism will strengthen and shed continued light on us all. These worthy goals must be met for the all the worlds children and theirs after them.
This is our moment for truth.
Unintimidated, stand, speak up and show up. Be counted. Be like our brothers and sisters at Standing Rock. Be there if you can. The progress we have made over two hundred and forty years as a nation, has always come first from the people
Thank you
Neil & Daryl
3 people arrested in Dakota Access pipeline stadium protest
-
Here
The Water Protectors' Christmas at Standing Rock
- Pics
Here
New Mexico OKs restart of America's only underground
nuke waste dump after 2014 radiation leak
-
Here
How Community Land Trusts Can Fix Detroit's
Foreclosure Mess
-
Here
Blizzards and sub-zero temps pound

Standing Rock
At
Standing Rock
, 200 ft Dome
-
Here
Army Denies Dakota Access Easement
Under Lake Oahe; Exultation Ensues
-
Here
Standing Rock Pics
-
Here
STANDING ROCK!
- video
Here
**
Before the first blizzard and sub-zero temps
Neil Young shows up unannounced
on his 71st B'day
Here
** &
Here
Indian Country News
ROCKS!
Standing Rock News Conference
**
Army Corps Retracts Water Protectors Removal
Dave Mathews
D.C. Concert
"Stand with Standing Rock"
Livestreamed
-
Here
**
November 27 -
Jackson Browne
and
Bonnie Raitt
Prairie Knights Pavilion
-
Fort Yates
-
Here
**
Standing Rock
Feds order DAPL [encampment] shutdown
"Although the news is saddening, it is not at all surprising
given the last 500 years of the treatment of our people. We
have suffered much, but we still have hope that the President
will act on his commitment to close the chapter of broken
promises to our people and especially our children.
—Dave Archambault II, Standing Rock Sioux Tribe"
"Police were spraying protesters with water in sub-freezing
temperatures and firing rubber bullets, reportedly injuring 16."
-
Here
Exclusive Pictures
-
Here
**
-
More Here
John Lennon Tunes
*
white flags on Brooklyn Bridge
-
Here
Bob Zavoda, Occupy Tucson, October 2011
Pete Seeger at Farm Aid 2013 - Biography at
Yes Magazine
Pete Seeger's Last Performance
**
Thanks to
The UK Guardian
Neil Young dismisses vinyl revival as a 'fashion statement'
-
Here
The Guardian US
- Photograph: Luke MacGregor/Reuters
Charles Bowden died Saturday, August 30, 2014 in Las Cruces, N.M., where he had
moved from the Tucson area. He was 69.
More
Here
** &
Here
* & Here
Stephen Gaskin dies at 79, founder of The Farm
-
More
"Among the dreams Gaskin never quite realized was a 100-acre
retirement community aimed at aging hippies. He called it Rocinante."
Happy Birthday John Coltrane - September 23, 1926
-
Bio
Here
S
aturday, September 13, 2014 - 10am PST 'til ? - FARM AID LIVE!
-
Here
The Intercept
-
Banned
by the Pentagon 08/20/2014
Impeccable, Independent, Real Journalism and No Lies!
!AND!
Unofficial Sources
- A counter to what
"Official Sources Say". Lookin' good! lol

♫
♫
Neil
*
(237 mins)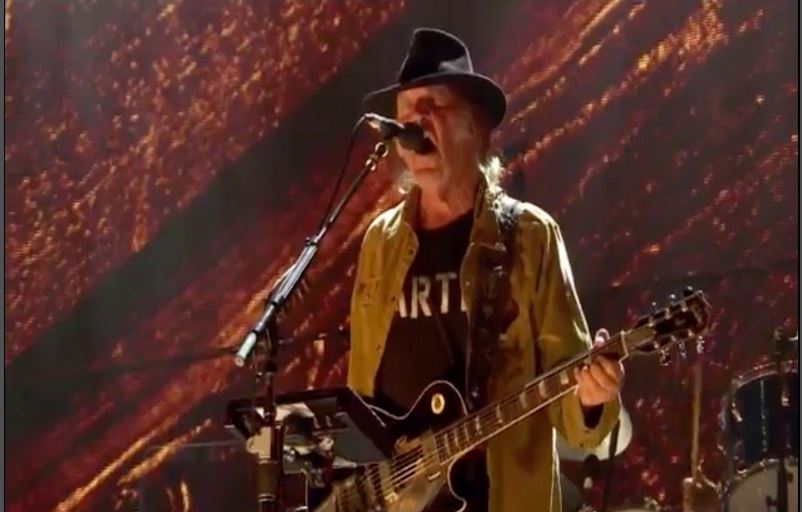 Save Our Heritage! NO GMOs!
Boycott Starbuck's!!! Why?
-
Here
Neil Young & Promise of the Real at Farm Aid 31
Micah is stage left looking toward Neil stage center
Willie with sons Lukas (Micah stage left) Sister Bobbie
Grand Finale
Neil with Promise of the Real
The West Coast "Rebel Content Tour"
>>
Here
*
Live COMPILATION
♫
♫
(270-mins)
3 Complete Set Lists - Versions below, some may not be from"RCT"
• • • • • • •
All the Tunes (Perty sure)


1. After The Gold Rush
2. Heart Of Gold

*


3. Comes A Time

*


4. Old Man

*


5. Mother Earth (Natural Anthem)

*


6. Hold Back The Tears

*


7. Out On The Weekend

*


8. Unknown Legend

*


9. Field Of Opportunity

*


10. Wolf Moon

*


11. Harvest Moon

*


12. Words (Between the Lines of Age)
13. Bad Fog Of Loneliness

*


14. Winterlong

*


15. Alabama
16. A Rock Star Bucks A Coffee Shop
17. People Want To Hear About Love
18. Big Box
19. Cowgirl in the Sand

*


20. Workin' Man
21. Monsanto Years

*


22. Love And Only Love

23. Encore: Powderfinger

• • • • • • •
Portland, OR - October 7, 2015
After The Gold Rush
Heart Of Gold
Comes A Time
Old Man
Mother Earth
Hold Back The Tears
Out On The Weekend
Human Highway
September Song
Western Hero
Field Of Opportunity
Wolf Moon
Words (Between the Lines of Age)
Walk On
Winterlong
Alabama
*
A Rock Star Bucks A Coffee Shop
*
People Want To Hear About Love
Big Box
Southern Man
*
Workin' Man
I Won't Quit
*
Everybody Knows This Is Nowhere
*
Love and Only Love
Encore:
Fuckin' Up
*
• • • • • • •
Eugene, OR - October 8, 2015
• • • • • • •
Las Vegas October 11, 2013 added tunes:

• • • • • • •
Other Rebel Content Tour tunes:

Video -
♫
♫
"Walk On"

-

Here

**
Left: Lukas Nelson, Neil Young and Micah Nelson at the SLO Brewery,


April 16, 2015,

playing a last minute, hour's-notice gig to announce
their June (2015) "The Monsanto Years" Tour
♫
♫
Neil Young
& Promise of the Real
*
Live April 2015

(108-mins)
Set list

Live at the SLO

Brewery

1. (blank)
2. New Song 1 - People Want To Hear
About Love
3. New Song 2 - New Day For The Planet
4. Down By The River
5. New Song 3 - Big Box
6. New Song 4 - Rock Star Bucks
A Coffee Shop
7.

Walk On

*


8. New Song 5 - Monsanto
9. New Song 6 - I Don't Know You
10. New Song 7 - Seeds
11. Everybody Knows This Is Nowhere
12. New Song 8 - Big Sky/Wolf Moon
13. Love And Only Love
14. New Song 9
15. New Song 10
16. Country Home
17. Roll Another Number
Music and Peace Festivals
-
Here


[Former] President Jose Mujica

-

[of] Uruguay, S.A.
"10 Reasons to Love Uruguay's President José Mujica" - Medea Benjamin
Iceland and the Northern Lights on a summer midnight
Climate Change brings death and destruction to the Philippines - FU wallstreet!
Learn from our Mistakes.
Create Peace and Happiness.
Interact with No Harm.
Teach through Kind Action.
Experience Wilderness Quiet.
Share your Bliss, Dance and Song.
Save our Wild Earth
Her Animals, Land,
Plants, Water and Air.
2013 Climate-Change Archive
Archived Data Base Additions are added November 1
of the previous year through October 31 of the current year
Thus, years are offset by two months - the 2016 archive starts 11/01 in 2015, etc.
Note: Archived web sites may have out-dated or broken links.
♫
♫
The Music at Indy Camp
*
(179 mins)
Movie soundtrack: Tibetan Bells Meditation
followed by
ROCKIN' Tunes!
♫
♫
Good Morning Occupy!
*
(192 mins)
James Brown War Sam the Sham and
the Pharaohs Cheech & Chong & Others